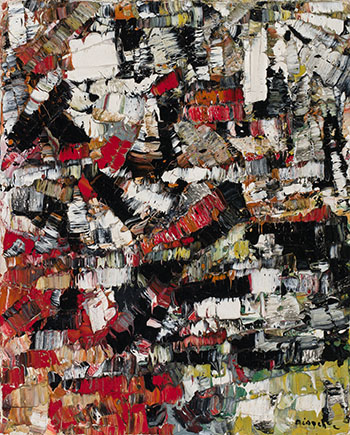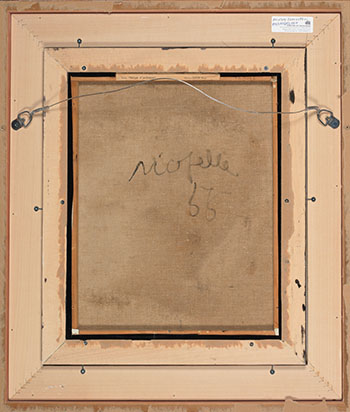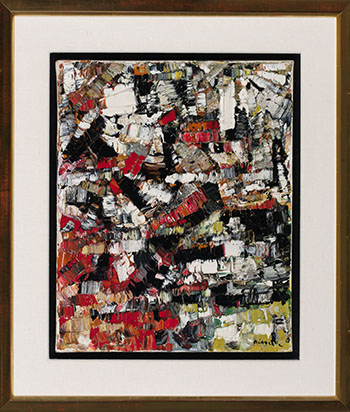 Lot # 033
Post-War & Contemporary Art Live auction

Jean Paul Riopelle
AUTO CAS OC QMG RCA SCA 1923 - 2002 Canadian

Neige d'automne
oil on canvas
signed and on verso signed, titled on the Dominion Gallery label, dated 1956, inscribed with the Dominion Gallery inventory #B2452 and stamped Dominion Gallery, Montreal
18 x 14 1/2 in 45.7 x 36.8cm

Provenance:
Dominion Gallery, Montreal
Private Collection, Winnipeg and Toronto
Sold sale of Canadian Post-War & Contemporary Art, Heffel Fine Art Auction House, May 28, 2014, lot 22
Private Collection, Montreal

Exhibited:
Dominion Gallery, Montreal, 1956

This fine small painting by Jean Paul Riopelle was first exhibited at the Dominion Gallery in Montreal in 1956, which is the date of its production. Dr. Max Stern, then director of the Dominion Gallery, was in Paris in the summer of 1956 and visited an exhibition of some recent works by Riopelle at the Galerie Jacques Dubourg, 126 boulevard Haussmann. He also took advantage of his Parisian visit to meet Paul-Émile Borduas in his studio, and brought back a few works from both painters, which were exhibited at his gallery in Montreal. Neige d'automne (Autumn Snow), which is inscribed with the Dominion Gallery inventory number #B2452, was probably one of the paintings exhibited by Riopelle at Galerie Dubourg - the list is unknown - or at least seen by Stern on that occasion.

We often associate Riopelle with large-scale paintings such as the ones we see in museums, but it is important to realize that he painted much smaller works, not only on paper but also in oil on canvas, as is the case here. This question of size is not unimportant. One knows that Jackson Pollock and many other American Abstract Expressionist painters after him were tempted by a size that was somewhere between easel and mural paintings, perceiving that their paintings were best served in a museum context. Smaller-scale works, on the other hand, made more sense for the private homes of art collectors - but not every painter is able to pass from one scale to the other and keep the same intensity. It is hard, for instance, to imagine John Lyman or Jean Paul Lemieux making mural paintings! Riopelle, on the contrary, was at ease in any size, including the gigantic, as demonstrated in his 1992 painting Hommage à Rosa Luxemburg.

Riopelle's small paintings gain by being lit properly, particularly because, in these works, one becomes aware of how gloss plays a crucial role. Riopelle painted with heavy impasto, and although he never varnished his paintings, some of the pigments he used had a gloss to them. This makes the lighting of his paintings challenging. Properly lit, small paintings such as this become the jewels of the collections they are in. Neige d'automne - the title reminds me of Paul-Émile Borduas's title Neige d'octobre, 1953, in the collection of the Musée d'art contemporain de Montréal - is a good example. If one follows the white strokes of colour, one has the feeling of a falling movement from the top to the bottom. The red-brown, the ochre, the yellow and the black are easily interpreted as the colours of autumn.

Riopelle was never keen on giving titles to his paintings – attested to by the innumerable Sans titres and Peintures – but here, his title is quite suitable. Even when a painter gets rid of the figure and paints abstractly, he often cannot completely free himself from Nature. This is especially true in Riopelle's case, as he is reported to have said: "Abstract means to come from Nature...I would rather say that what I want is to go towards Nature." He was always very critical of the opposition made by art critics between figurative and non-figurative art, and passed from one to the other easily. Much later, he finally reached Nature exclusively with his series on Owls or Canada Geese, not to mention his extensive Bestiary. As I suggested before, Neige d'automne is a gem - it is the kind of painting one can live with for a long time.

We thank the late François-Marc Gagnon (1935 - 2019), formerly of the Gail and Stephen A. Jarislowsky Institute for Studies in Canadian Art, Concordia University, for contributing the above essay in 2014.

This work is included as an addendum in Yseult Riopelle's online catalogue raisonné on the artist's work at http://www.riopelle.ca.


Estimate:
$100,000 ~ $150,000 CAD
Sold for:
$277,250 CAD (including Buyer's Premium)

All prices are in Canadian Dollars.
Although great care has been taken to ensure the accuracy of the information posted, errors and omissions may occur. All bids are subject to our Terms and Conditions of Business.