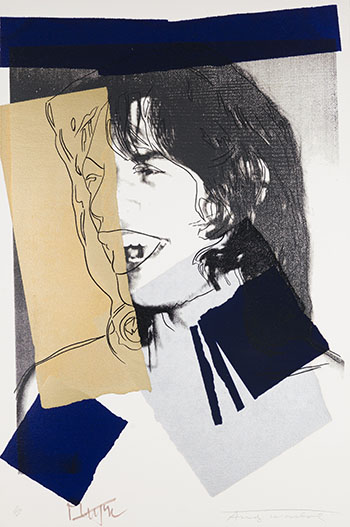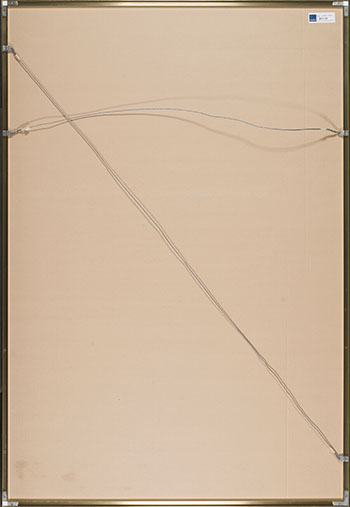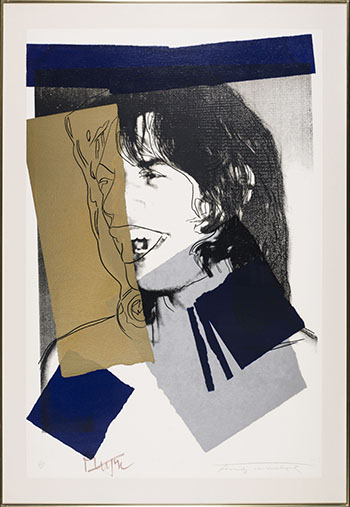 Lot # 008
Post-War & Contemporary Art Live auction

Andy Warhol
1928 - 1987 American

Mick Jagger (F.&S. II.142)
screenprint on Arches Aquarelle paper 1975
signed and signed by Mick Jagger and editioned 250/250 and on verso stamped © Seabird Editions
43 1/2 x 29 in 110.5 x 73.7cm

Provenance:
Private Collection, Ontario

Literature:
Victor Bockris, The Life and Death of Andy Warhol, 1989, page 355
Kynaston McShine, editor, Andy Warhol: A Retrospective, Museum of Modern Art, 1989, the 1975 maquette for the silkscreen reproduced page 319
Trevor Fairbrother, "Andy and Mick," Frieze, May 6, 1994, https://frieze.com/article/andy-and-mick, accessed May 15, 2019
Frayda Feldman and Jörg Schellmann, editors, Andy Warhol Prints: A Catalogue Raisonné, 1962 - 1987, 4th edition, 2003, reproduced page 92, catalogue #II.142

This iconic screenprint is from Andy Warhol's 1975 edition of 10 different images of the Rolling Stones singer Mick Jagger. Warhol first met Jagger in 1964 in New York, during the band's first US tour, and in 1971 he designed the provocative cover for the Stones' Sticky Fingers album. Coming after his pop period of the 1960s, this was the time of Warhol's celebrity portraits, which was a long-lasting period. Victor Bockris wrote of these portraits, "Beginning with the epic Mao series, many faces – his mother, Truman Capote, Mick Jagger, Lana Turner – appeared as cunningly colored, as sharply poignant, as a Gauguin."

Warhol cultivated associations with the rich and famous; he hung out in clubs such as Studio 54, made his studio a centre for meeting people and producing portraits, and published Interview magazine. Initiated in 1969, the magazine by the 1970s had become a pioneer of the "style format," mixing fashion, entertainment and celebrities.

In 1974, Warhol took the photographs for images in this series while Jagger was renting the artist's house in Montauk, on Long Island, where the band had retreated to rehearse for their sixth American tour. Warhol was known for taking Polaroids and liked images with a strong graphic contrast. For the print edition, he posed Jagger bare-chested with a chain around his neck. The artist had an obsession with cultural idols and fame, and Jagger, the charismatic and photogenic bad boy, was a perfect subject. Warhol stated:

"He's androgynous enough for almost anyone. That's always been his basic appeal, mixed with the facts that: 1) He's very talented; 2) He's very intelligent; 3) He's very handsome; 4) He's very adorable; 5) He's a great business person; 6) He's a great movie star; 7) I like his fake cockney accent…Image is so important to rock stars. Mick Jagger is the rock star with the longest running image. He's the one all the young white kids copy. That's why every detail of his appearance is important."

Warhol knew that Jagger was entirely conscious of the effect his persona had on people.

In 1975, Warhol developed the technique seen in this print, in which he used patches of torn coloured graphic art paper, with the halftone or drawing line producing the striking effect of a collage. This technique complicated the process, which required up to 10 separate screens to complete each image.

In Mick Jagger (F.&S. II.142), the drawn lines are quite prominent. With its artfully placed patches and fine lines, this image is elegant and yet playful - with the subject less formally posed than in the other images in the set. Jagger is caught in a more unguarded moment, showing his amusement at something in the photo session. As part of the whole edition, the image shows another facet of this extraordinary performer and also shows Warhol's instinctive understanding of Jagger's persona.

This image was screened on Arches Aquarelle (Rough) paper. The edition is of 250, with 50 APs, 3 PPs, signed in pencil lower right and numbered in pencil lower left; some signed in felt pen. Most of the prints are also signed in black, green or red felt pen by Mick Jagger, who had such a big fan base that this would have brought more attention to the edition. The edition was printed by Alexander Heinrici in New York and published by Seabird Editions, London, England.


Estimate:
$40,000 ~ $60,000 CAD
Sold for:
$73,250 CAD (including Buyer's Premium)

All prices are in Canadian Dollars.
Although great care has been taken to ensure the accuracy of the information posted, errors and omissions may occur. All bids are subject to our Terms and Conditions of Business.