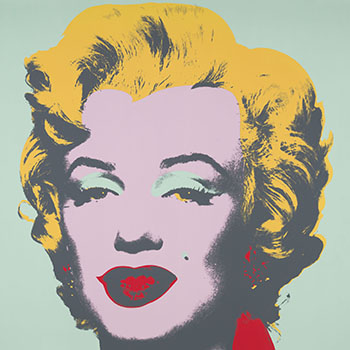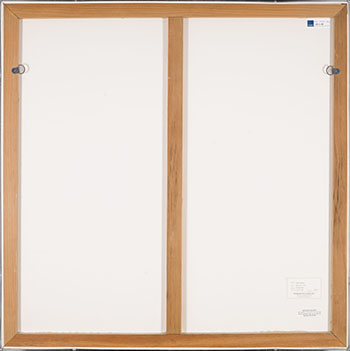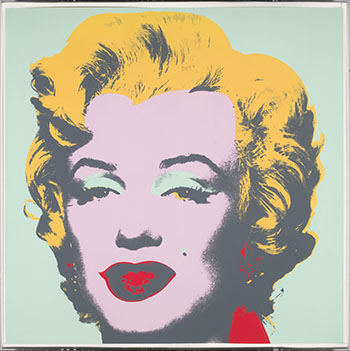 Lot # 007
Post-War & Contemporary Art Live auction

Andy Warhol
1928 - 1987 American

Marilyn Monroe (Marilyn) (F.&S. II.23)
screenprint on paper 1967
on verso signed and editioned 221/250
36 x 36 in 91.4 x 91.4cm

Provenance:
Waddington & Gorce, Montreal
Acquired from the above by the present Private Collection, Ontario, 1988

Literature:
Victor Bockris, The Life and Death of Andy Warhol, 1989, page 113
Kynaston McShine, editor, Andy Warhol: A Retrospective, Museum of Modern Art, 1989, reproduced page 220
Frayda Feldman and Jörg Schellmann, editors, Andy Warhol Prints: A Catalogue Raisonné, 1962 - 1987, 4th edition, 2003, page 24, reproduced page 68, catalogue #II.23

This spectacular print is from Andy Warhol's portfolio of 10 screenprints of Marilyn Monroe, produced in 1967. Warhol found the screenprint an ideal medium for his work. Used in commercial art, it was ideal for creating flat two-dimensional images and for using blocks of colour in high contrast.

The Monroe portfolio was Warhol's first set of prints to contain 10 images and the first to be produced by Factory Additions, a company he created to distribute his prints. After Monroe committed suicide in 1962, Warhol immediately decided to paint a portrait series based on a black and white publicity photograph for the 1953 film Niagara, in which Monroe had starred, and the 1967 screenprints were also based on this image. For this edition, he close-cropped the image to include only her face. He used the same classic image in all 10 prints, but varied the colouration, which was highly saturated in each one.

In Warhol's images of Monroe, he fused two of his important themes – death and the cult of celebrity. Monroe was a product of pop culture and an enduring sex symbol, and her image was a facade of glamour and fame. Although she was very familiar to so many, her true self was not. Once while walking through the streets of New York with Amy Greene, the wife of her personal photographer Milton Greene, she kept her energy low-key, and subsequently went almost unnoticed. Then she told her friend to watch as she conjured the persona of Marilyn Monroe. As if a light was now shining on her and out of her, she became visible and noticed.

Victor Bockris wrote that in Warhol's images of Monroe, "The elusive movie star's mask was reproduced to the point where it was impossible to say where the mask ended and the real woman began – in that sense very much like the man who had created them." The repetition of the same image through all 10 of the prints in the portfolio (although differently coloured) manifests the obsession of the viewer, who, seduced by the mass media creation of Marilyn, contemplates the same image over and over again.

The artist's catalogue raisonné describes the Marilyn portfolio as his first technically complex prints. Although the Marilyn paintings had been realized in an array of colours, these screenprints went further: "a palette of fiery reds, hot and pale pinks, and other saturated hues transforms Marilyn's face into even more of a fiction than the carefully crafted publicity still from which it was originally derived," as the raisonné states. Regarding his colour choices, Warhol revealed, "As for whether it's symbolic to paint Monroe in such violent colors: It's beauty, and she's beautiful, and if something's beautiful, it's pretty colors, that's all."

This is one of the most classic images from the set, showing her bright blonde hair and deep red lips. Marilyn Monroe (Marilyn) (F.&S. II.23) is a highly sought after screenprint - a finely wrought example of Warhol's commentary about mass media's obsession with celebrity culture. The movie industry made Marilyn an icon, and Warhol made his image of her an embodiment of the pop art movement.

The catalogue raisonné states that the edition is of 250, signed in pencil and numbered with a rubber stamp on verso; some signed in ballpoint pen; some initialed on verso; some dated. There are 26 APs signed and lettered A-Z on verso. The printer is Aetna Silkscreen Products, Inc., New York, and the publisher is Factory Additions in New York.


Estimate:
$125,000 ~ $175,000 CAD
Sold for:
$205,181 CAD (including Buyer's Premium)

All prices are in Canadian Dollars.
Although great care has been taken to ensure the accuracy of the information posted, errors and omissions may occur. All bids are subject to our Terms and Conditions of Business.