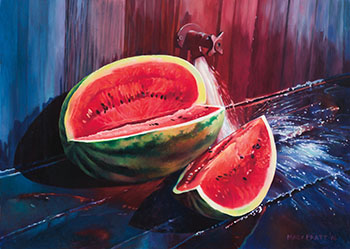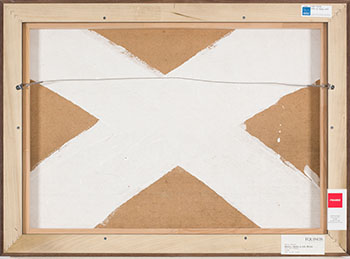 Lot # 001
Post-War & Contemporary Art Live auction

Mary Frances Pratt
CC OC RCA 1935 - 2018 Canadian

Water, Spout & Cut Melon
oil on board
signed and dated 1996 and on verso titled on the gallery label
20 x 27 3/4 in 50.8 x 70.5cm

Provenance:
Equinox Gallery, Vancouver
Private Collection, Vancouver

Literature:
Lisa Moore, "A Labour of Love," Canadian Art, January 20, 2014, https://canadianart.ca/features/mary-pratt-a-labour-of-love, accessed March 5, 2019
Mireille Eagan, "Mary Pratt: 1935 - 2018," Canadian Art, August 15, 2018, https://canadianart.ca/features/mary-pratt-1935-2018, accessed March 5, 2019

This painting portrays a scene of easy, almost instinctual familiarity. Water gushes from an outdoor tap - very much like one many of us have turned on and off dozens of times a summer - and cascades past a perfectly ripe watermelon, its halo of light-infused rind widely smiling. Though rigorously realist, Mary Pratt does not exert an oppressive control in this work, but rather allows the subject's essence to be expressed. There is a radical selflessness to her rendering of these charged moments of circumstance presented to her, perhaps best summarized by her own statement: "I've never thought of myself as an artist. I just do what I like to do." While it is possible that this selflessness could be mistaken for simplicity or naiveté, this is not the case. Author Lisa Moore has referred to her surfaces as "boldly objective," adding that "there is more going on – always - than meets the eye." Incisively beautiful, Pratt's still lifes are vital reminders of the many moments in our lives routinely overlooked, and speak directly to the resonance that lies in a moment properly observed.


Estimate:
$30,000 ~ $40,000 CAD
Sold for:
$55,250 CAD (including Buyer's Premium)

All prices are in Canadian Dollars.
Although great care has been taken to ensure the accuracy of the information posted, errors and omissions may occur. All bids are subject to our Terms and Conditions of Business.