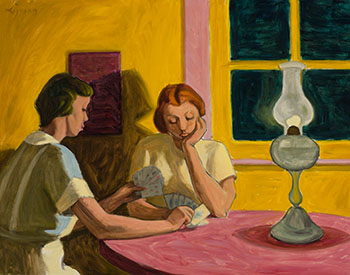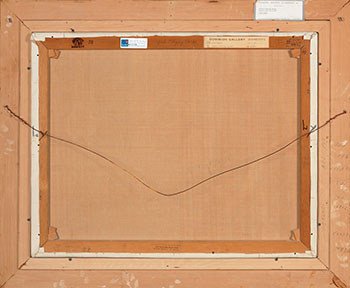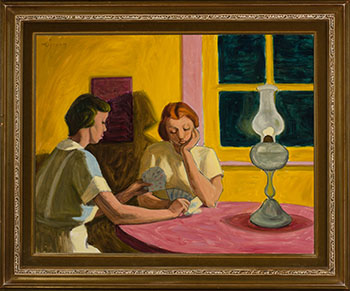 Lot # 144
Canadian, Impressionist & Modern Art Live auction

John Goodwin Lyman
CAS CGP EGP FRSA 1886 - 1967 Canadian

Girls Playing Cards
oil on canvas circa 1935
signed and on verso titled
22 x 28 1/8 in 55.9 x 71.4cm

Provenance:
Dominion Gallery, Montreal
Galerie Walter Klinkhoff Inc., Montreal
Private Collection, Montreal

Literature:
Louise Dompierre, John Lyman, 1886 – 1967, Agnes Etherington Art Centre, 1986, a similar circa 1935 oil entitled The Card Game, collection of the National Gallery of Canada, reproduced page 150, and three studies for this work reproduced page 151

In 1909, John Lyman moved to France, and he went on to live there so long that, like Canadian Impressionist James Wilson Morrice (with whom he was in contact), he was almost regarded as French. While there, Lyman studied with Henri Matisse and developed his modernist inclinations. In 1931 Lyman returned to Canada for good, and this decade was an important time in his career, in which he explored figurative subjects. Girls Playing Cards is a stunning canvas from this period. The volumetric modeling of the women's bodies is strong, and the lamp, which throws strong shadows, further emphasizes this. Lyman kept the interior very simple, and the warm lamplight burnishes the predominantly warm palette. The simplicity of the scene and the choice of an everyday activity recall American social realism of the 1930s, such as the work of Edward Hopper.
A very similar oil by Lyman entitled The Card Game, in the collection of the National Gallery of Canada, was exhibited in the Tate Gallery's 1938 exhibition A Century of Canadian Art as well as the National Gallery of Canada's 1975 exhibition Canadian Painting in the Thirties.


Estimate:
$30,000 ~ $50,000 CAD
Sold for:
$43,250 CAD (including Buyer's Premium)

All prices are in Canadian Dollars.
Although great care has been taken to ensure the accuracy of the information posted, errors and omissions may occur. All bids are subject to our Terms and Conditions of Business.