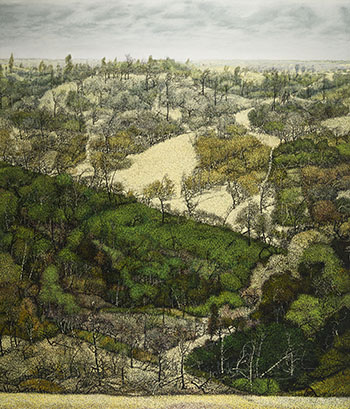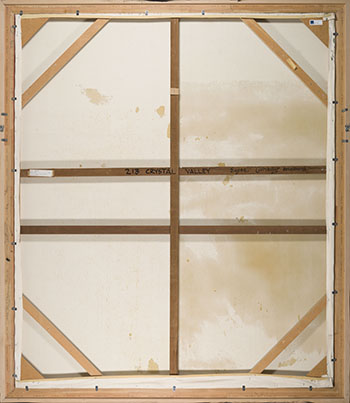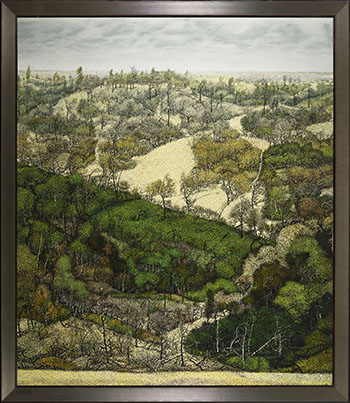 Lot # 009
Post-War & Contemporary Art Live auction

Ivan Kenneth Eyre
RCA 1935 - Canadian

Crystal Valley
acrylic on canvas
on verso signed, titled, dated 1979 on the gallery label and inscribed "213"
77 x 66 in 195.6 x 167.6cm

Provenance:
Marlborough-Godard, Toronto
Corporate Collection, Toronto

Literature:
George Woodcock, Ivan Eyre, 1981, pages 128 - 130, reproduced page 129 and listed page 186
Ivan Eyre, Ivan on Eyre: The Paintings, Pavilion Gallery, 2004, page 138, reproduced page 139 and listed page 493

"Because the strong, dark hill needed to be offset, a yellow trail from the central meadow leads to a spot near the right horizon, creating an angle to the right. In conjunction with similarly-angled features in the foreground, the impact of the major dark slope is placated.
In order to establish scale I introduced a small human figure into the undergrowth in the lower-left quadrant. It's my way, too, of projecting myself into the space. The placement of a figure or figures somewhere in the complexity of the woodlands was to become a regular figure of my landscapes…
I also just allude to the vegetation details. For example, I don't paint every leaf though it may seem to some that I do. On close examination, one can see that the marks are too big to depict individual leaves. I merely make a network of elaborate markings that are stand-ins for leaves. The alternative would be impossible, and not painterly.
In Crystal Valley I began to give a bigger role to the sky. The rounded clouds gently repeat the fullness of the tree bunches. I'm always looking to make connections – to justify forms. Theme and variation become an overriding principle, whether conscious or instinctive."
- Ivan Eyre
Crystal Valley is a superb and quintessential landscape work by Ivan Eyre. As George Woodcock wrote, "The most intense, the purest, expression of Eyre's vision is to be found in the great imaginary landscapes. They are superb abstractions in the sense that we are each time brought under the dominance of one great image, a country of the mind that our eyes explore from tree to tree and from valley to hilltop." Eyre does not work from photographs or sketches made on the spot, but makes a distillation of landscape that emphasizes patterns of vegetation and repetition of enfolding layers of hills that climb towards the sky. The very title Crystal Valley reinforces that this is a decoction of landscape. As Eyre said in his quoted statement, he is not concerned with a realist approach – the representation of every leaf – but instead with overall shapes and volumes that create a heightened sense of the order present in nature.
Landscapes such as this have a magisterial formality that recreates the sense of awe and humility we feel when contemplating a vast panorama, small in the face of nature stretching into the far distance before us. Eyre's landscape feels very still, almost brooding, giving a sense of the impending unknown. However, Eyre felt that "the human spirit must be present in painting," and in Crystal Valley it does not simply result from the inclusion of the small figure that projects his own presence into the work. It resides in the very selective nature of his vision that creates a "country of the mind" – and an experience of the mystical in landscape.


Estimate:
$70,000 ~ $90,000 CAD
Sold for:
$373,250 CAD (including Buyer's Premium)

Preview at: PacArt Toronto
All prices are in Canadian Dollars.
Although great care has been taken to ensure the accuracy of the information posted, errors and omissions may occur. All bids are subject to our Terms and Conditions of Business.