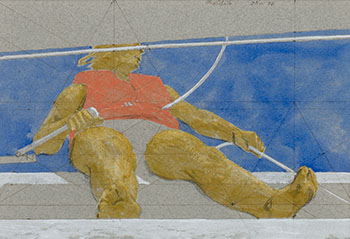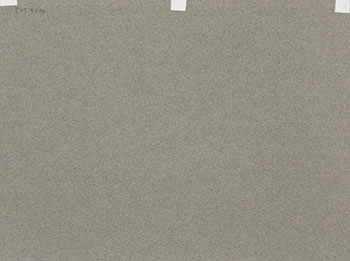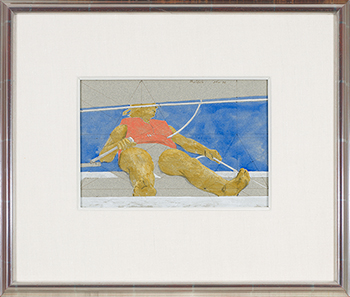 Lot # 002
Post-War & Contemporary Art Live auction

Alexander Colville
PC CC 1920 - 2013 Canadian

Study for Laser
watercolour on paper
signed and dated 2 Nov. 1976 and on verso titled on the gallery label
9 x 12 in 22.9 x 30.5cm

Provenance:
Mira Godard Gallery, Toronto
Acquired from the above by the present Private Collection, Montreal, 1985

Literature:
Marina Vaizey, Alex Colville, Fischer Fine Art Limited, 1977, the 1976 painting entitled Laser and two other studies for Laser, entitled Study for Laser and Figure Study for Laser, reproduced page 9
David Burnett, Colville, Art Gallery of Ontario, 1983, the 1976 painting entitled Laser, collection of Staatliche Museen zu Berlin, reproduced page 234, catalogue raisonné #110
David Burnett, Alex Colville: Prints and Paintings, 1985, the 1976 painting entitled Laser reproduced page 12

Alex Colville is a Canadian realist of great international repute. Fischer Fine Art, which exhibited the acrylic painting Laser in 1977, was Colville's dealer in London, England, for many years. European museums and collectors have taken great interest in Colville's work, reflected in the fact that the painting from this fine watercolour study is in the collection of Germany's Staatliche Museen zu Berlin.
In preparing for his paintings, Colville's working practice was to produce a series of studies of increasing precision in which he determined sightlines, compositional elements and colours using graphite, watercolour and acrylic, until the final image was determined. In this vital study, which concentrates on the main figure, the woman's face is partially hidden. The main focus is on the balance and tautness of the body, which is in assured control of the boat, and in harmony with wind and water. He also worked on his palette, contrasting deep blue water with the bright orange life jacket, with bright white giving the illusion of sunlight. With his careful observations and distillations of pictorial elements, Colville shaped his image into something extraordinary.


Estimate:
$20,000 ~ $30,000 CAD
Sold for:
$25,000 CAD (including Buyer's Premium)

All prices are in Canadian Dollars.
Although great care has been taken to ensure the accuracy of the information posted, errors and omissions may occur. All bids are subject to our Terms and Conditions of Business.