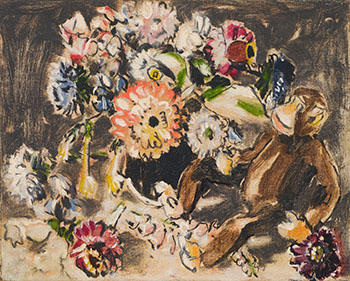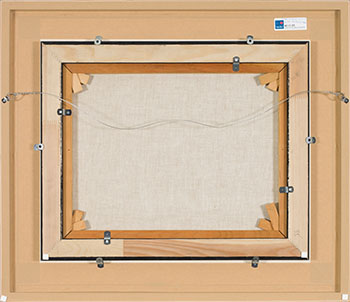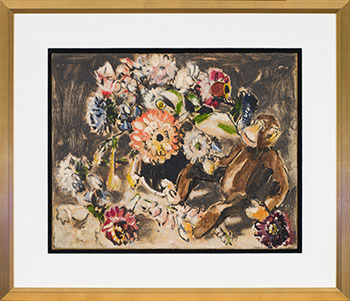 Lot # 123
Canadian, Impressionist & Modern Art Live auction

David Brown Milne
CGP CSGA CSPWC 1882 - 1953 Canadian

Zinnias and Monkey
oil on canvas August 1944
on verso titled on the gallery label and certified by Marlborough-Godard, January 20, 1973
16 x 20 in 40.6 x 50.8cm

Provenance:
Estate of the Artist
Marlborough-Godard, Toronto
Charles E. MacCulloch, Nova Scotia, 1973
By descent to the present Private Collection, Montreal, 1981

Literature:
David Milne Jr. and David P. Silcox, David B. Milne: Catalogue Raisonné of the Paintings, Volume 2: 1929 - 1953, 1998, reproduced page 847, catalogue #404.114

Exhibited:
Galerie Walter Klinkhoff Inc., Montreal, David Milne (1882 - 1953): Retrospective Exhibition, September 2001, catalogue #56

In 1940, David Milne and Kathleen Pavey moved from Toronto to Uxbridge, a tranquil small town – close (but not too close!) to Toronto. Milne's years at Uxbridge from 1940 to 1946 were domestically content and artistically productive, and his son David Jr. was born in 1941. During this time Milne worked on "subject paintings," such as religious-inspired imagery like the Ascension series, concurrent with his landscapes and still lifes. From 1942 to 1944, he produced a group of flower subjects, such as this delightful work. Milne took a more detailed approach to his subject here, and the zinnias are wedged into the vase in such profusion that they are falling over and out, scattering over the tabletop. Due to having a child in the household, Milne included items previously not seen in his still lifes: toys, blocks and stuffed animals, such as the monkey in this vivacious and colourful oil.


Estimate:
$40,000 ~ $60,000 CAD
Sold for:
$55,250 CAD (including Buyer's Premium)

All prices are in Canadian Dollars.
Although great care has been taken to ensure the accuracy of the information posted, errors and omissions may occur. All bids are subject to our Terms and Conditions of Business.