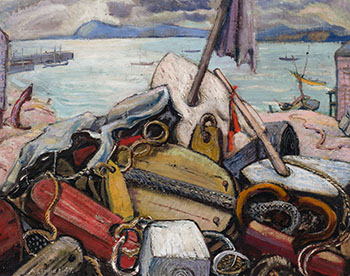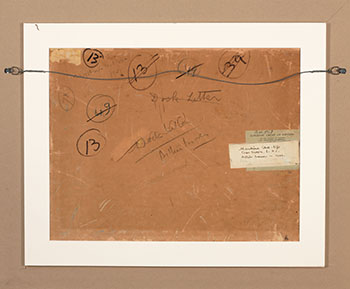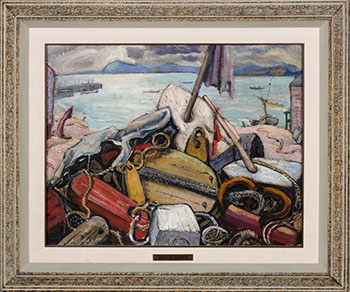 Lot # 140
Canadian, Impressionist & Modern Art Live auction

Arthur Lismer
AAM CGP CSGA CSPWC G7 OSA RCA 1885 - 1969 Canadian

Maritime Still Life, Cape Breton I., NS
oil on canvas board
signed and dated 1947 and on verso signed, titled, dated 1947 and 1946 on a label and inscribed twice "Dock Litter" (crossed out) and "13"
16 x 20 in 40.6 x 50.8cm

Provenance:
Private Collection, Montreal

Literature:
Dennis Reid, Canadian Jungle: The Later Work of Arthur Lismer, Art Gallery of Ontario, 1985, page 43

Exhibited:
Art Gallery of Toronto, Canadian Group of Painters

In 1945, Arthur Lismer resumed his previous pattern of taking lengthy summer sketching holidays, and in the summer of 1946, he traveled to Ingonish and Neil's Harbour, on Cape Breton Island. Dennis Reid praised the painting Lismer did on Cape Breton Island as "strong, assured, often innovative." Drawn to the harbours of small fishing villages, Lismer found the objects used by the fishermen there visually stimulating, and he painted works depicting killicks, buoys, anchors, ropes and traps strewn on docks. Reid wrote, "These objects crafted by the fishermen were to Lismer evidence of a fundamental creative response to the environment, reflecting attitudes fixed on simple but profound values." In this nautical "still life," Lismer created a fine sense of mass and rhythm in the jumbled pile of objects linked by loops and curls of ropes, and his use of textural brushwork emphasized the rough-hewn nature of the fishermen's gear. Lismer's inclusion of the striking harbour setting, with boats set against mountains topped by a moody sky, makes this a particularly rich and stimulating Maritime subject.



All prices are in Canadian Dollars.

Although great care has been taken to ensure the accuracy of the information posted, errors and omissions may occur. All bids are subject to our Terms and Conditions of Business.