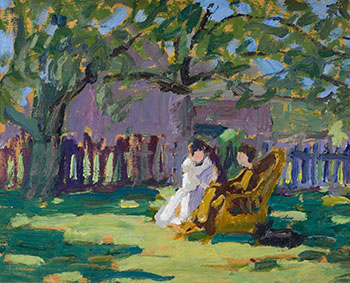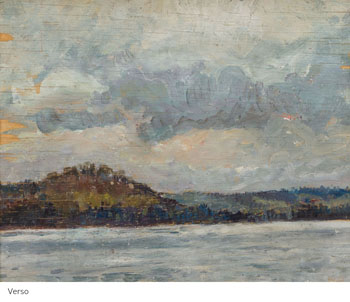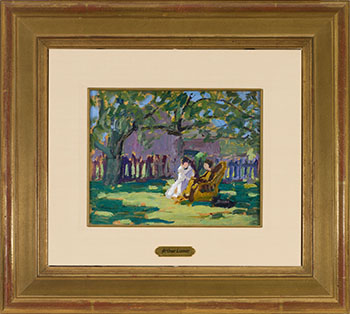 Lot # 109
Canadian, Impressionist & Modern Art Live auction

Arthur Lismer
AAM CGP CSGA CSPWC G7 OSA RCA 1885 - 1969 Canadian

In the Garden / Landscape (verso)
double-sided oil on board
on verso titled and dated circa 1916 - 1917 on the gallery label and inscribed "related sketch to 'Spring Time c. 1917' canvas reproduced in Lismer Bright Land page 29" on the gallery label
9 1/4 x 11 1/2 in 23.5 x 29.2cm

Provenance:
Estate of the Artist
Peter Ohler Fine Arts Ltd., Vancouver, 2010
Acquired from above by the present Private Collection, Vancouver, 2010

Literature:
Lois Darroch, Bright Land: A Warm Look at Arthur Lismer, 1981, a related canvas, Springtime on the Farm, Thornhill, Ontario, circa 1917, in the collection of the Montreal Museum of Fine Arts, reproduced page 29

Arthur Lismer moved to Thornhill, a small village of about 300 people five miles north of Toronto, around 1915 to 1916. J.E.H. MacDonald was already living there, and Frederick Varley and Frank Carmichael would later join them. Although war was raging in Europe, life in Thornhill was pleasant and pastoral, and here the future Group of Seven artists gathered, sometimes joined by Lawren Harris and A.Y. Jackson before he enlisted, and discussed their dream of a new national school of painters. This period was just before the famous boxcar trips to Algoma, where they would paint its wild landscape with an unfettered approach. It is interesting that one of the first critical storms weathered by the Group involved MacDonald's oil The Tangled Garden, produced in Thornhill. In this tranquil oil sketch, Lismer depicts a strong light casting shadows across the lawn. A bright blue sky pierces the trees, whose graceful curving branches form a screen above the sitters, lending intimacy to the scene. Making this work even more desirable to collectors is the fine atmospheric landscape on verso.


Estimate:
$30,000 ~ $40,000 CAD
Sold for:
$34,250 CAD (including Buyer's Premium)

All prices are in Canadian Dollars.
Although great care has been taken to ensure the accuracy of the information posted, errors and omissions may occur. All bids are subject to our Terms and Conditions of Business.