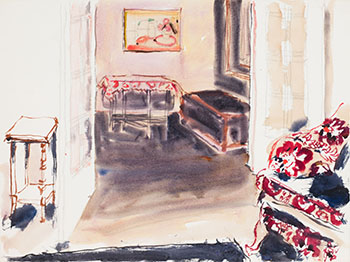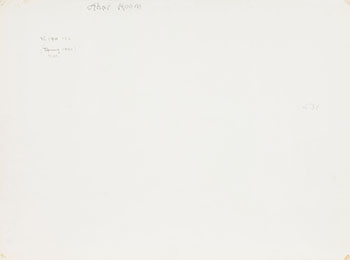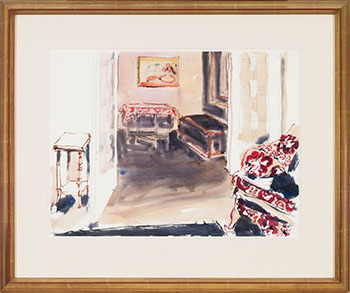 Lot # 128
Canadian, Impressionist & Modern Art Live auction

David Brown Milne
CGP CSGA CSPWC 1882 - 1953 Canadian

Other Room III
watercolour on paper
on verso titled Other Room and inscribed "March 1940" and "W. 192" by Douglas Duncan
15 x 20 in 38.1 x 50.8cm

Provenance:
Estate of the Artist
Peter Ohler Fine Arts Ltd., Vancouver
Private Collection, Vancouver

Literature:
David Milne Jr., David Milne: The Toronto Year, 1939 – 1940, Marlborough-Godard, 1976, pages 4 and 5, listed page 11, titled as Other Room and reproduced page 29, and a drawing for this watercolour reproduced page 7
David Milne Jr. and David P. Silcox, David B. Milne: Catalogue Raisonné of the Paintings, Volume 2: 1929 – 1953, 1998, page 715, reproduced page 715, catalogue #401.65, similar watercolours entitled Other Room I, Other Room II and The Next Room reproduced pages 715 and 716

Exhibited:
Marlborough-Godard, Toronto, David Milne: The Toronto Year, 1939 – 1940, January 1976, catalogue #29

Starting in July 1939, David Milne spent a year painting in Toronto. Previously he had spent six years in isolation in a cabin on Six Mile Lake, in the Township of Georgian Bay, and, as David Milne Jr. related, he "was becoming 'bushed.' " In Toronto, he liaised with the Mellors gallery and his patrons the Massey family, went to museums and pursued his relationship with Kathleen Pavey. Watercolour had become Milne's dominant medium in 1937, and in Toronto he continued this practice. Milne did three related versions of this evocative urban interior, as well as a fourth that included Kathleen. He wrote in his diary: "Doing a watercolour looking between the open French doors from the living room into the dining room. Stretches all the way from very light to very dark, from slight pencil lines to thick lines and blotches of colour," and went on to describe his colour choices. Milne's time in Toronto, infused with a peaceful domesticity supportive to his work, "set his painting on the course it was to follow for the next dozen years," in the words of Milne Jr.


Estimate:
$25,000 ~ $35,000 CAD
Sold for:
$31,250 CAD (including Buyer's Premium)

All prices are in Canadian Dollars.
Although great care has been taken to ensure the accuracy of the information posted, errors and omissions may occur. All bids are subject to our Terms and Conditions of Business.