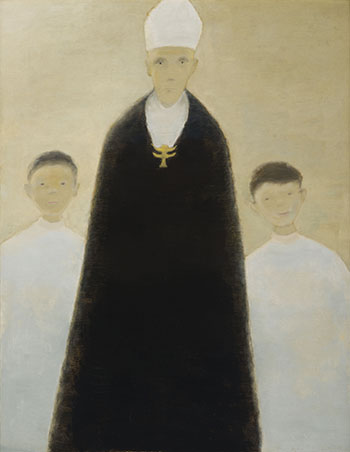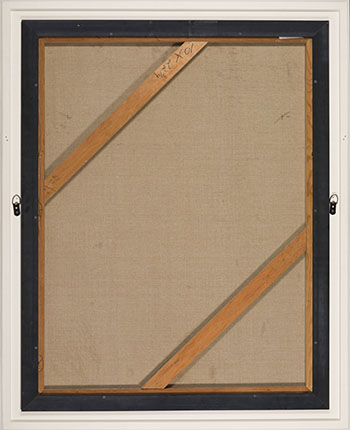 Lot # 028
Post-War & Contemporary Art Live auction

Jean Paul Lemieux
CC QMG RCA 1904 - 1990 Canadian

L'évêque en noir
oil on canvas
signed and dated 1963 and on verso titled
40 1/8 x 30 7/8 in 101.9 x 78.4cm

Provenance:
Galerie Agnès Lefort, Montreal
An Important Private Collection, USA
Sold sale of Canadian Post-War & Contemporary Art, Heffel Fine Art Auction House, November 28, 2013, lot 15
Private Collection, Toronto

This was not the first time that Jean Paul Lemieux had been attracted by religious subject matter, as he was in L'évêque en noir. He had painted a famous portrait of Cardinal Léger, and even one of Pope John Paul II. In this work, however, we are not dealing with a portrait, but rather with a type, a generalized figure of ecclesiastical authority, accompanied by two altar boys. Even the yellow ornament that the bishop wears on his chest is difficult to identify as a cross. We are left with only the face to unravel this haunting figure, who stands contrasted with the innocence of the two boys.

As is often seen in Lemieux's paintings of religious figures, the faces have very few details. We saw, in Heffel's fall 2010 art auction, a good example of that in a 1966 painting entitled L'Apôtre. Lemieux has kept just enough detail in L'évêque en noir to communicate the imposing presence of the bishop.

In the early 1960s when this painting was produced, a huge movement of secularization, of detachment from the Catholic Church, was just beginning in Quebec. It was the end of the "survivance" mentality, in which the French presence in North America was seen almost as a miracle. It was also the end of the attempt to use religion, and the French language, as the criteria of French-Canadian identity. Soon, the control the Church had on the Quebec population for so many years began to loosen, and the churches became deserted. These monuments, which had been landmarks everywhere in Quebec, were emptied, destroyed or transformed into something else (including condos!). Quebec became a pluralist society, where it was possible to have many religious beliefs side-by-side, or none whatsoever, and to remain tolerant of one another.

In this context the bishop in Lemieux's L'évêque en noir could be seen as a poignant figure who did not understand exactly what was going on, but was determined not to lose power. I see this bishop's black cloak – which is, by the way, traditional for the liturgy of Good Friday and for the Mass for the deceased – as a sign of death: death not of an individual, but of an ideology, of the belief through which he had found his pre-eminent place in society, a place he was about to lose.

The composition of the painting is rigorously symmetrical - the bishop occupies the centre of the painting, with the similarly dressed altar boys on either side. It is not that symmetry is associated in particular with death, but certainly with an absence of movement, with frontality and a kind of permanence of the representation. Asymmetrical figures, on the contrary, suggest more dynamism, intentionality and life. When Lemieux depicted his people - even frontally, as in Julie et l'univers, 1963, a painting of the same year as our L'évêque en noir - on the side of the composition, he created a dynamism between the background and the figure that we do not have here. As a matter of fact, you could say here that the localization of the figures in space is sacrificed to convey the idea of their permanence in time. It is only in memory, unconnected with a specific space, that the figures can be truly permanent, as archetypes.

In Lemieux's work we do not find a direct confrontation of religion such as exists in Paul-Émile Borduas's manifesto Refus global, but rather an ironic point of view or a reflection on a vanishing world. There is certainly an element of nostalgia in Lemieux's approach, but also of realism in regard to the evolution of thought in Quebec.

We thank François-Marc Gagnon of the Gail and Stephen A. Jarislowsky Institute of Studies in Canadian Art, Concordia University, the 2013 recipient of the medal of the Académie des lettres du Québec for his lifetime achievement, for contributing the above essay.



All prices are in Canadian Dollars.

Although great care has been taken to ensure the accuracy of the information posted, errors and omissions may occur. All bids are subject to our Terms and Conditions of Business.