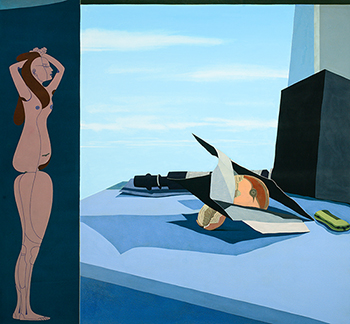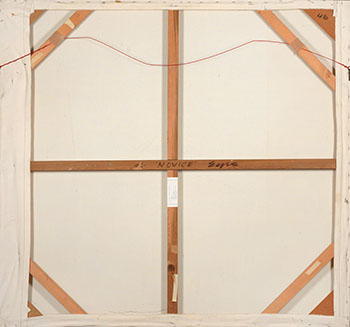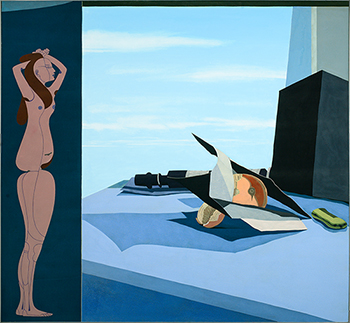 Lot # 047
Post-War & Contemporary Art Live auction

Ivan Kenneth Eyre
RCA 1935 - Canadian

Novice
acrylic on canvas
on verso signed, titled and dated 1970 on the exhibition label
56 x 60 in 142.2 x 152.4cm

Provenance:
Private Collection, Quebec

Literature:
Terrence Heath, Ivan Eyre: Personal Mythologies / Images of the Milieu, Figurative Paintings, 1957 – 1988, Winnipeg Art Gallery, 1988, reproduced page 73 and listed page 133
Ivan Eyre, Ivan on Eyre: The Paintings, Pavilion Gallery, 2004, page 104

Exhibited:
Winnipeg Art Gallery, Ivan Eyre: Personal Mythologies / Images of the Milieu, Figurative Paintings, 1957 – 1988, December 18, 1988 - February 26, 1989, traveling in 1988 - 1990 to the National Gallery of Canada; Nickle Arts Museum, Calgary; Edmonton Art Gallery; and London Regional Art Gallery, catalogue #45

Novice is an outstanding example of Ivan Eyre's figurative work from the early 1970s. At this time, Eyre produced many drawings of stylized men and women, and he placed these figures into paintings with intriguing environments that incorporated landscape and still life elements. Within the divisions of this painting, each element interacts with a different atmosphere: the side panel with a female figure is stylized and ambiguous; the sky is serene and natural; and the interior with objects on a tabletop is man-made yet mysterious. Eyre stated that the "still life" elements in his paintings were a "deceptively realistic component, often mistaken as the abstract component," and that they were taken from actual still life components in his studio, some of which were quite small. However, in paintings such as this, they appear to be large sculptural arrangements. Eyre's juxtaposition of these disparate elements within their defined boundaries recalls the works by Surrealist painters, with their deliberate disruption of the rational. In Novice, Eyre formulates a dreamlike visual language that stimulates the viewer's unconscious to make intriguing connections.



All prices are in Canadian Dollars.

Although great care has been taken to ensure the accuracy of the information posted, errors and omissions may occur. All bids are subject to our Terms and Conditions of Business.