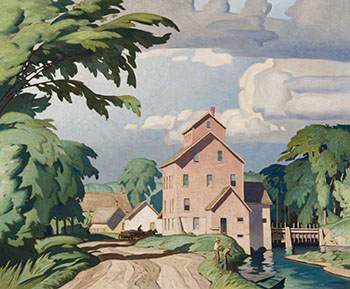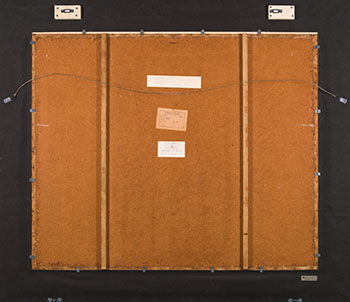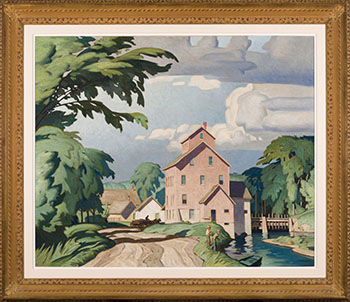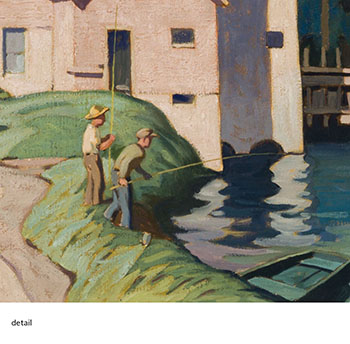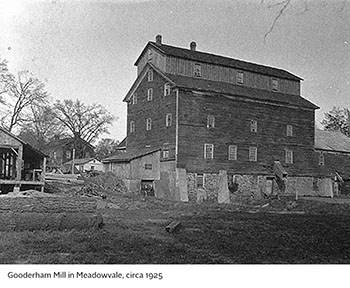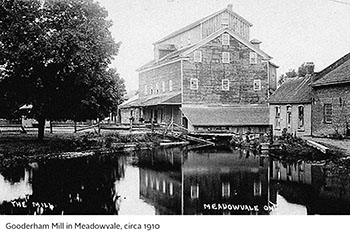 Lot # 109
Canadian, Impressionist & Modern Art Live auction

Alfred Joseph (A.J.) Casson
CGP CSPWC G7 OC POSA PRCA 1898 - 1992 Canadian

The Village Mill
oil on canvas on board
signed and on verso signed, titled on the various labels and dated 1937 on the artist's label and the exhibition label
37 x 45 in 94 x 114.3cm

Provenance:
Roberts Gallery, Toronto, stock #6557, price $750
Property of an Important Estate, Ontario

Exhibited:
Art Gallery of Windsor, A.J. Casson Retrospective, May 14 – July 9, 1978, traveling to the Art Gallery of Ontario, Toronto, July 22 – August 27, 1978, catalogue #28

Inscribed by the artist on verso: "The original sketch for the painting "The Village Mill", 37" x 45", 1937 was made in the Village of Cheltenham. In the large painting I replaced the Cheltenham Mill with the old Gooderham Mill that was in Meadowvale, which is now torn down. June 18 / 1977"

This impressive painting was likely produced in A.J. Casson's home at 43 Rochester Avenue, in the Lawrence Park neighbourhood of Toronto. By 1931, the steady employment Casson had found as a designer with the commercial art firms of Rous & Mann Ltd. and Sampson Matthews Limited allowed him to have a Georgian-style home designed and built, complete with a studio on the upper floor. Casson had relative stability throughout the Great Depression – the Depression resulted in a quiet professional and social life, which allowed him the time and energy to paint. Although he rarely sold paintings during this period, the security of his trade allowed him the freedom to paint for his own enjoyment.

"Enjoyment" is an important word to use when describing a painting such as The Village Mill, as there are few more purely enjoyable paintings in Canadian art than Casson's depictions of small Ontario towns. Although the subject matter falls somewhere between Lawren Harris's Toronto street scenes and A.Y. Jackson's Charlevoix villages, the style of these works is entirely Casson's. In this example, the skill on display is formidable and would have drawn upon all his strengths as both an artist and a designer.

The rounded shapes of the trees and clouds hold both a palpable volume and an illustrative charm, and the long shadows reaching across the road neatly, but not obviously, balance the stretch of darker clouds at the top of the composition. The palette is expertly chosen, with the soft pinks of the mill offset against the various tones of blue in the sky, water and shade from the trees. The abundance of green, however, is a central aspect of not only this work, but of Casson's work as a whole. Regarding it as a difficult colour that easily overwhelms a composition, Jackson reportedly "hated" green, and complimented Casson on his dexterity with it. This hue is a touchstone of many of Casson's best works not only because of his skill, but also because of necessity – his professional obligations often relegated extended sketching trips to the summer, when many of his favourite areas of Ontario were at their most verdant.

Casson also distinguished himself from his peers by his finesse in depicting architecture. He began to engage with this theme in the late teens, and it was to become an especially Casson-esque motif within the Group of Seven, an association of artists so pointedly focused on landscape. The way Casson places humanity peacefully within nature and not pitted against its opposition or indifference is also in stark contrast to the terre sauvage ethos of much of the Group of Seven's efforts. Interestingly, as a further testament to their uniqueness within this period of Canadian painting, when placed on a broader spectrum of artistic comparison, Casson's village paintings lean more towards Edward Hopper than they do to John Constable. While he was entirely capable of depicting the imposing grandeur of nature, especially in his stormy, angular skies, Casson was just as adept in placing his sympathies with people and community.

As was sometimes the case, this image is a composite of towns that Casson had visited. A note from the artist on the verso states that the original sketch for the painting was of the village of Cheltenham, but in this work the Cheltenham Mill was replaced with the Gooderham Mill, which was in Meadowvale. The artist also relayed to the previous owner of the work that the two children fishing in the foreground represent himself and his older brother, John, who died in 1922 from wounds suffered in World War I.

A major painting as well as a personally meaningful one, The Village Mill can be placed among Casson's best works for one additional reason – while its compositional harmony produces a genuine resonance in the eyes of the viewer, this painting also holds a beautiful calm. There is a gentleness to Casson's most exceptional works, and it brings to mind one word in particular: quietude.


Estimate:
$300,000 ~ $500,000 CAD
Sold for:
$421,250 CAD (including Buyer's Premium)

All prices are in Canadian Dollars.
Although great care has been taken to ensure the accuracy of the information posted, errors and omissions may occur. All bids are subject to our Terms and Conditions of Business.