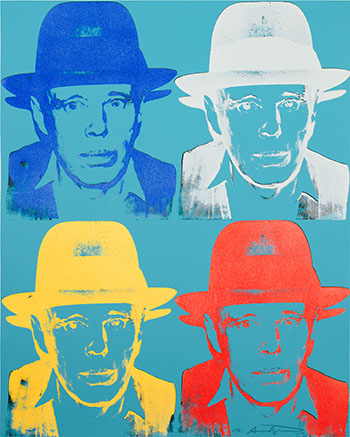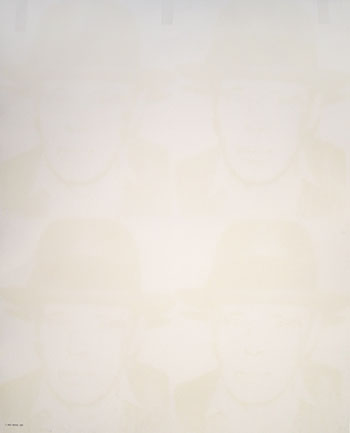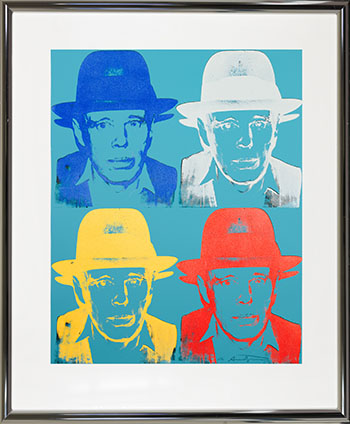 Lot # 007
Post-War & Contemporary Art Live auction

Andy Warhol
1928 - 1987 American

Joseph Beuys (F. & S. II.244)
screenprint on Lenox Museum Board 1980 ~ 1983
signed and editioned PP 3/9 and on verso certified by the copyright stamp "© Andy Warhol 1980" and stamped with a blindstamp
40 x 32 in 101.6 x 81.3cm

Provenance:
Private Collection, Montreal

Literature:
Frayda Feldman and Jörg Schellman, editors, Andy Warhol Prints: A Catalogue Raisonné, 1962 - 1987, 4th edition, 2003, reproduced page 116, State III and listed page 217, catalogue #II.244
Phaidon, "What Andy Warhol Saw in Joseph Beuys," para. 3, http://www.phaidon.com/agenda/art/articles/2016/february/08/what-andy-warhol-saw-in-joseph-beuys, accessed August 29, 2018

This iconic screenprint was based on a photograph taken by Andy Warhol of leading contemporary German artist Joseph Beuys. The two artists met a number of times in New York, Naples and Düsseldorf. Warhol also made paintings of Beuys, and he created a campaign poster for Beuys's Green Party, stating that he liked Beuys's politics.

An article on the publisher Phaidon's website states, "The pair recognised each other's genius, myth-like reputation and prominence, despite operating at opposing poles of a post-war art world. As the American art critic David Bourdon put it, their 1979 meeting in New York, around the time of a Beuys Guggenheim retrospective, 'had all the ceremonial aura of two rival popes meeting in Avignon.' "

The catalogue raisonné states that there are three states; states II and III have rayon flock. There are 150 prints in the edition, 36 AP, 9 PP and 45 TP not in portfolios. The publisher was Editions Schellmann & Klüser, Munich, Germany / New York, and the printer was Rupert Jasen Smith, New York.

The exhibition Andy Warhol - From A to B and Back Again will take place at the Whitney Museum of American Art in New York from November 12, 2018 to March 31, 2019.


Available for post auction sale.
Price:
$37,250 CAD
All prices are in Canadian Dollars.
Although great care has been taken to ensure the accuracy of the information posted, errors and omissions may occur. All bids are subject to our Terms and Conditions of Business.