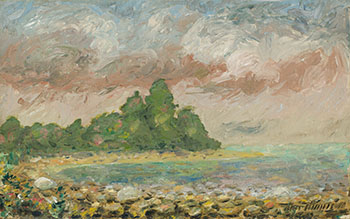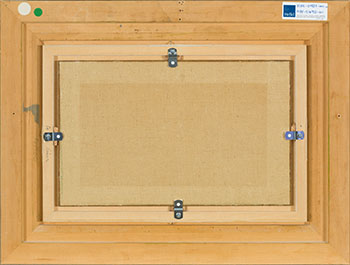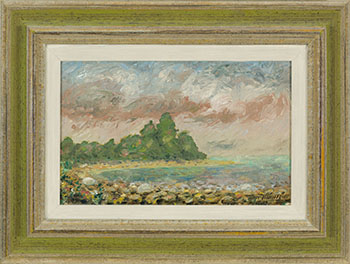 Lot # 161
Canadian, Impressionist & Modern Art Live auction

Thomas John (Tom) Thomson
OSA 1877 - 1917 Canadian

Lake Scugog
oil on canvas on panel circa 1911
signed and on verso titled Lake in Algonquin Park on the gallery label
8 1/2 x 13 3/8 in 21.6 x 34cm

Provenance:
Laing Galleries, Toronto
Private Collection, Montreal
Sold sale of Important Canadian Art, Sotheby's Canada, June 13 - 14, 1972, lot 95, titled as Lake in Algonquin Park
John Shortread, Edmonton
Sold sale of Important Canadian Art, Sotheby's Canada, May 19, 1993, lot 179
Private Collection, Toronto

Literature:
Dennis Reid, editor, Tom Thomson, Art Gallery of Ontario / National Gallery of Canada, 2002, page 115
Joan Murray, Tom Thomson Catalogue Raisonné, reproduced, http://tomthomsoncatalogue.org/catalogue/entry.php?id=89, accessed August 21, 2018

The sketches from Tom Thomson's trips to Lake Scugog are among the earliest of his landscape paintings. They are essential to our understanding of Thomson as an artist and underline the explosive growth he would soon undergo. Within three years he would transform from a charming painter in search of his style to one of the most poetic painters in Canadian art. He joined the design firm of Grip Ltd. in early 1909, and he was encouraged by Grip's senior artist J.E.H. MacDonald to pursue his painting on weekends. Soon, fishing trips to Lake Scugog northeast of Toronto served as some of Thomson's first en plein air ventures. Friend and Grip colleague Arthur Lismer later said that prior to these trips Thomson was "not ready to emerge." Thomson was already into his thirties when he produced sketches such as this one, and considering the greatness of his later accomplishments, section 41 of the Tao Te Ching comes to mind: "Great talents ripen late / The highest notes are hard to hear." In this sense, Thomson's Lake Scugog sketches serve as brief and lovely overtures for the sublime notes he would soon play.

This work is included in the Tom Thomson catalogue raisonné, #1911.14, researched and written by Joan Murray, and can be viewed at http://tomthomsoncatalogue.org/catalogue/entry.php?id=89.


Estimate:
$60,000 ~ $80,000 CAD
Sold for:
$193,250 CAD (including Buyer's Premium)

All prices are in Canadian Dollars.
Although great care has been taken to ensure the accuracy of the information posted, errors and omissions may occur. All bids are subject to our Terms and Conditions of Business.