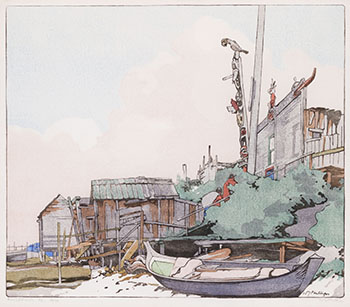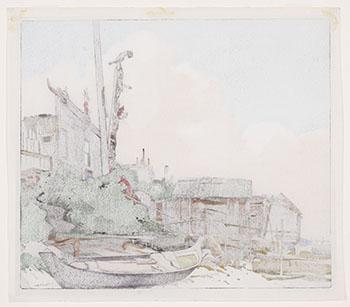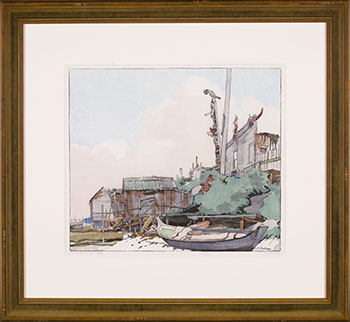 Lot # 102
Canadian, Impressionist & Modern Art Live auction

Walter Joseph (W.J.) Phillips
ASA CPE CSPWC RCA 1884 - 1963 Canadian

Mamalilicoola, BC
colour woodcut on paper 1928
signed, titled and editioned 56/100
12 1/8 x 13 7/8 in 30.8 x 35.2cm

Provenance:
Private Collection, Manitoba

Literature:
Walter Phillips, Wet Paint, undated, unpublished manuscript, Glenbow Museum archives, M-969-4, described page 104
Duncan Campbell Scott, Walter J. Phillips, 1947, reproduced page 19
Michael J. Gribbon, Walter J. Phillips: A Selection of His Works and Thoughts, National Gallery of Canada, 1978, reproduced page 67
Roger Boulet, The Tranquility and the Turbulence, 1981, reproduced page 100
Roger Boulet, Walter J. Phillips: The Complete Graphic Works, 1981, reproduced page 283
Maria Tippett and Douglas Cole, Phillips in Print: The Selected Writings of Walter J. Phillips on Canadian Nature and Art, 1982, reproduced, unpaginated

Between 1926 and 1960, Walter J. Phillips visited a number of coastal First Nations villages in British Columbia. In his unpublished manuscript Wet Paint, Phillips describes this print in detail, his words telling us much about his compositional considerations:
"This is exactly as I saw the scene, except that the canoe on the beach replaces a log. The latter was lacking sufficient intrinsic interest to create a proper balance where it lay, or to provide a lineal check to the upward thrust of the various parts of the whole composition. The movement has its climax in the totem-pole, which dominates the scene…It is a magnificent pole and should be preserved…The two figures, and the direction of their movement, are a great aid to the composition, leading the eye inevitably to the totem-pole, and correlating that with the whole foreground. They are placed at the foot of the pole within an angle, and serve also to relieve the mass of green that covers the bank, by virtue of their shapes and colour."
Phillips's attention to these details of colour and movement is a consistent thread in his graphic work. Mamalilicoola, BC is a prime example of his seemingly effortless abilities to compose, colour and design a scene.


Estimate:
$20,000 ~ $30,000 CAD
Sold for:
$25,000 CAD (including Buyer's Premium)

All prices are in Canadian Dollars.
Although great care has been taken to ensure the accuracy of the information posted, errors and omissions may occur. All bids are subject to our Terms and Conditions of Business.