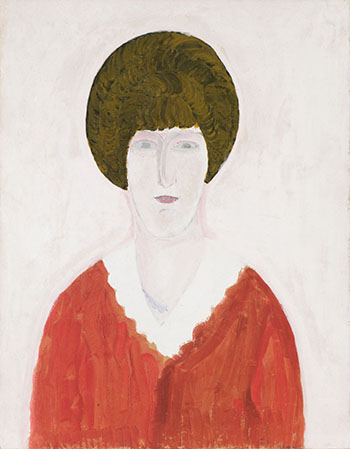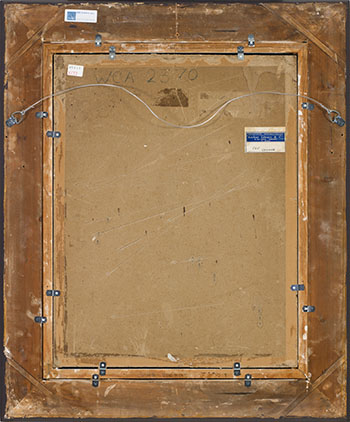 Lot # 134
Canadian, Impressionist & Modern Art Live auction

Constantin Brancusi
1876 - 1957 Romanian

Tête de femme
tempera and gouache on paper on paperboard circa 1918
signed and on verso inscribed "WCA 2370" and "CEU Canada" on an Arthur Lenars & Cie, Paris shipping label
25 1/8 x 21 in 63.8 x 53.3cm

Provenance:
M. Knoedler & Co., New York
Galerie Europe, Paris
Acquired from the above by the present Important Private Collection, Montreal, then California, 1968

Literature:
Sidney Geist, Brancusi: A Study of the Sculpture, 1968, page 180
Sidney Geist, Constantin Brancusi, 1876 – 1957: A Retrospective Exhibition, Solomon R. Guggenheim Museum, 1969, pages 136 and 137, a work of the same subject entitled Portrait of a Woman, circa 1918, reproduced page 136
Pontus Hulten et al., Brancusi, 1987, page 8, the similar works Standing Woman in Blue, 1917, reproduced page 111 and Portrait of a Woman, 1917, reproduced page 114

Constantin Brancusi's work is unequivocally connected to a new language of sculpture in the twentieth century, yet it draws from diverse historical, cultural and vernacular sources, including his native Romania. In 1904, to continue his studies, he moved from Bucharest to Paris, where he remained. Brancusi's Paris milieu was the modernist vanguard, which included artists such as Marcel Duchamp, Fernand Léger, Henri Matisse, Henri Rousseau and Amedeo Modigliani, American photographer Edward Steichen (who lived in Paris intermittently between 1900 and 1924, and photographed Brancusi in his studio in 1925), writers Guillaume Apollinaire, Jean Cocteau, James Joyce, Ezra Pound and Tristan Tzara, as well as composer Erik Satie.

Brancusi's work attracted American collectors early on, among them John Quinn and Katherine Dreier, for her Société Anonyme collection (the bulk was donated to the Yale University Art Gallery), which established his reputation first in New York. He was included in the landmark 1913 Armory Show, and his first solo exhibition was at Alfred Steiglitz's 291 gallery in 1914. Dreier included Brancusi in The International Exhibition of Modern Art in 1927 that was shown at the Brooklyn Museum, then the Albright Art Gallery and the Anderson Galleries in Buffalo, and then the Art Gallery of Toronto, from April 1 to 24, 1927, through the "orchestration" of Canadian artist Lawren Harris. Brancusi's polished brass sculpture Mlle Pogany, 1920, was exhibited in Toronto.

Brancusi had considerable impact and influence in his time. He brought Modigliani to carving (they shared an interest in Egyptian sculpture), and Isamu Noguchi apprenticed with him from 1927 to 1929. His influence continued for contemporary artists, such as the American minimalists Carl Andre, Dan Flavin, Richard Serra and Frank Stella, as well as Claes Oldenburg, and every artist since who has taken on the leitmotif of Brancusi's "endless column." Consequently, much has been written on his contribution to sculpture, but little attention paid to his work on paper (beyond his photography), in part because Brancusi did not produce a large body of such work. As Sidney Geist wrote for the 1968 Guggenheim retrospective, this work on paper was not Brancusi's habit or studio practice, and with the exception of sketches for (and after) sculpture, the majority of his works on paper appear to be independent. In Geist's words, "Rationality may inform the sculptures; an undisguised lyricism pervades his drawings."

Within this modest production of about 100 works, watercolour and gouache works are rare, and thus must be considered of consequence, given Brancusi's methodical rigour and practice of returning to subjects and forms that were important to him. There are three other versions of Tête de femme, with comparable dimensions, all with the same three-quarter composition of a female sitter wearing a red dress. As well, there are two other gouaches of the same sitter. While Tête de femme is independent of any sculpture, there is a strong resonance with works of the period, such as Head of a Girl (stone, 1907, whereabouts unknown) and the versions of Mlle [Margit] Pogany—the first was done in 1912—with a focus on form rather than portrait-physiognomy, as Brancusi did for his variations of "resting" ovoid heads. Pontus Hulten wrote that Brancusi had a "visceral need for truth." For Geist, Brancusi's modernity "was a sense of the new, the hopeful…His optimism is frank, uncomplicated, and ultimately purposive [serving a useful purpose], and projects a rare message of joy in which there is no trace of Angst."

The sitter has been previously described as unidentified, but the four versions suggest a close association. Based on the biographical record and period photographs, one possibility is the Hungarian artist Margit Pogány (1879 - 1964), who was Brancusi's muse for numerous works; the other is the Romanian sculptor Milita Petrascu (1892 - 1976), who studied with Brancusi in Paris from 1919 to 1923.

We thank Ihor Holubizky, an art historian currently based in Canada, for contributing the above essay.

This lot is accompanied by a photo-certificate of authenticity dated March 19, 1986 and signed by Paul Haim, an expert from the Douanes Françaises and Cour d'Appel in Paris and a member of the Compagnie Nationale des Experts.

Also included with this lot is a letter from Dr. Jean-Phillipe Peides of Galerie Cult-Art Inc. in Montreal to Mrs. Françoise Rimsky-Korsakoff at Galerie de France in Paris, that purports that the sitter for this work is Dina Vierny. Vierny was Aristide Maillol's muse for the last 10 years of his life. She also posed for Henri Matisse and Pierre Bonnard, and they attributed a renewed inspiration for their work to her.

A major exhibition of the artist's work, Constantin Brancusi Sculpture, is currently on view at the Museum of Modern Art in New York.


Estimate:
$150,000 ~ $250,000 CAD
Sold for:
$121,250 CAD (including Buyer's Premium)

All prices are in Canadian Dollars.
Although great care has been taken to ensure the accuracy of the information posted, errors and omissions may occur. All bids are subject to our Terms and Conditions of Business.