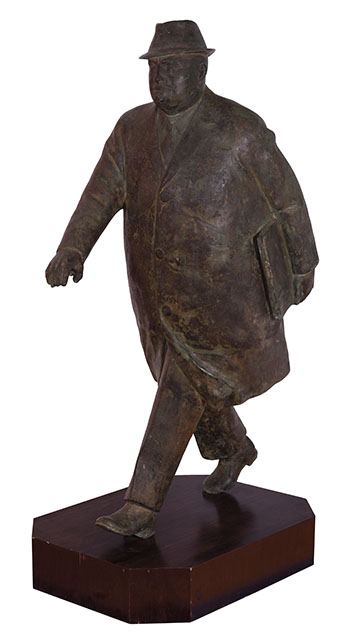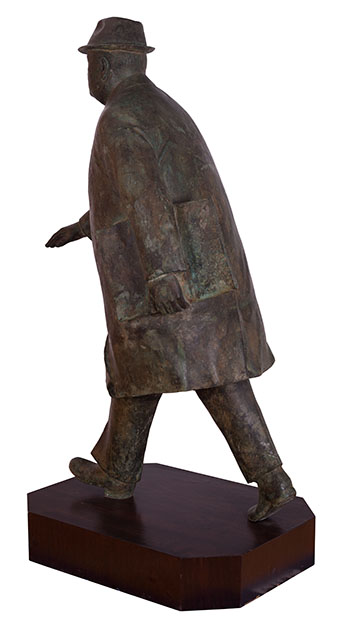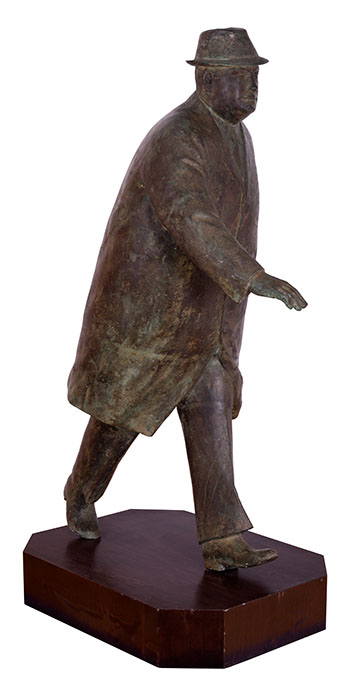 Lot # 049
Post-War & Contemporary Art Live auction

William Hodd (Bill) McElcheran
RCA 1927 - 1999 Canadian

Businessman with Folder
bronze sculpture
signed, editioned 3/6 and dated 1987
49 x 24 x 18 in 124.5 x 61 x 45.7cm

Provenance:
Collection of DuPont Canada, Ontario

Literature:
Inge Lindemann, editor, William Mac (William McElcheran): The Businessman, 1991, pages 26, 27, 28 and 31

William McElcheran studied painting before sculpture, but gravitated to painters who dealt with sculptural forms. When he crossed into the realm of sculpture, European artists such as Giacomo Manzù, Jacques Lipchitz, Wilhelm Lehmbruck, Ernst Barlach and Gerhard Marcks attracted him. McElcheran was also interested in many old master artists, such as Donatello, Michelangelo and Gian Lorenzo Bernini, and he loved classicism, which dealt with the heroic, the larger-than-life figure.
Early in his career, McElcheran was involved with Catholicism and made religious sculptures, which often depicted an archetype of the Everyman, through which he related the Passion of Christ to contemporary life. As McElcheran moved away from his religious themes, the Everyman evolved into the businessman image, and he declared, "My businessman replaces the classical hero." Instead of depicting a classical hero who was larger than life, McElcheran was now searching to "find my image for the anti-ideal, the anti-hero. So the whole idea of my businessman is that he is exactly that sort of Everyman, the ubiquitous non-hero."
McElcheran's businessman is part of a larger organization, one he must conform to. He is symbolic of the consumer, and the structures and expectations of society. His earthbound solidity is communicated by his rounded volumetric body cast in bronze, clothed in the classic business costume of coat, tie, hat and briefcase. In the larger context of societal structure, McElcheran identifies the businessman as "not only a result, but at the same time a protector of the industrial age which is based upon the whole theory of the division of labor."
Thus McElcheran creates a sense of nostalgia for these men, who are driven to succeed, to acquire, to conform, to attain power, yet are controlled by their own system. We also sympathize with them because McElcheran imbued each of his figures with hints of a distinctive personality—as he felt that "inside he has little fantasies which he keeps for himself." McElcheran may satirize his businessman, but in a manner that is sympathetic to his subject. He stated, "I'm always trying to maintain the tension between a kind of classical ideal and a satirical statement." Archetypes of our times, these businessmen are players on the stage of life, and we empathize with their sense of purpose and their belief in their way of life.
The wood base measures 5 ¼ x 20 ½ x 27 3/8 inches.


Estimate:
$25,000 ~ $35,000 CAD
Sold for:
$30,000 CAD (including Buyer's Premium)

All prices are in Canadian Dollars.
Although great care has been taken to ensure the accuracy of the information posted, errors and omissions may occur. All bids are subject to our Terms and Conditions of Business.