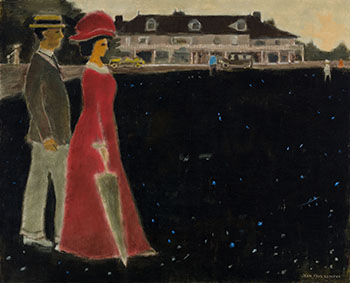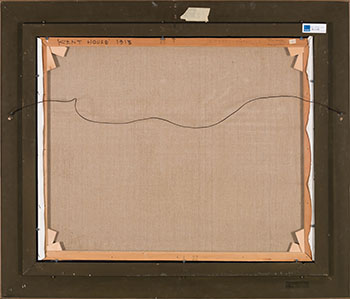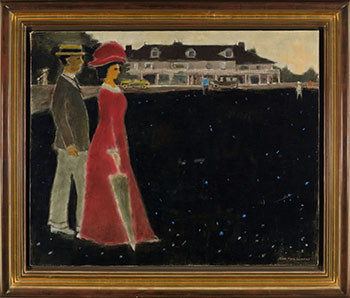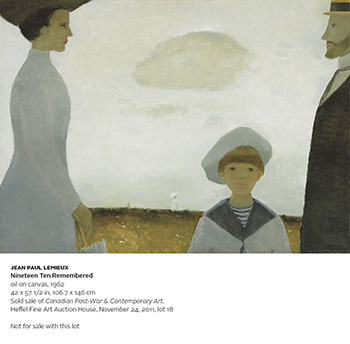 Lot # 020
Post-War & Contemporary Art Live auction

Jean Paul Lemieux
CC QMG RCA 1904 - 1990 Canadian

Le temps retrouvé - Kent House 1913
oil on canvas circa 1972
signed and on verso titled, inscribed and labeled "1768" and stamped with the Galerie L'Art Français stamp
26 x 32 in 66 x 81.3cm

Provenance:
Galerie L'Art Français Ltée, Montreal
Private Collection, Toronto

Literature:
Michèle Grandbois, Jean Paul Lemieux: Life & Work, Art Canada Institute, 2016, page 4

Many of the qualities that make Jean Paul Lemieux's work from any phase of his long career perennially appealing are apparent in this quietly captivating painting. The openness of the image field characteristically combines with a strong interest in figures, to whom we cannot help but ascribe narratives. His palette here is particularly bold – note the crepuscular blue emanations in the predominantly black ground that fills most of the surface – yet the strength of colour is also softened by its tactility. The painting is in all ways gratifyingly subtle.

Le temps retrouvé - Kent House 1913 is set in a place of great importance in Lemieux's childhood and in his later recollection - Kent House - whose form constitutes the background of this painting. Located not far from Quebec City and near the famous Montmorency Falls, it is now called Manoir Montmorency. It was in these elegant, and for him at the time, idyllic surrounds that Lemieux spent his summers and falls as a child. It was here too, in 1914, that he first had inklings of life as an artist, thanks to meeting a painter from the United States at the resort. "His name was Parnell," Lemieux would later recall. "I got into the habit of going to watch him work, and I saw him paint some very big canvases. I was fascinated. That was when I began to make sketches."

Kent House 1913 is remarkable in its presentation of a time just before this auspicious meeting in 1914. It is fruitful to think of the painting as a member of a select group of works, begun in the 1960s, in which Lemieux self-consciously recalled his childhood: Nineteen Ten Remembered, from 1962, and Summer of 1914, from 1965. In the earlier of these two family portraits, the artist is shown between his parents, facing us as they face one another. Summer of 1914 is also set on the grounds of the elegant Kent House. Here the artist as a boy and his mother both face us. Kent House 1913 is similarly autobiographical but not literally a self-portrait. The figures promenading from left to right are dressed in ways similar to his parents in the paintings of 1962 and 1965. There is even a hint of a beard on the man's face, reminiscent of Lemieux's father in Nineteen Ten Remembered. Perhaps instead of showing himself in this place as he remembers it, Lemieux here dwells on the memory of the place and of his parents in an attempt to re-establish how he saw these stylish figures as a child.

In later work such as Anguish (1988), Lemieux would show more troubled recollections of the past and would reflect on our present relationships with the cosmos, but here, his early childhood is projected as innocent and happy. That he would locate the inception of his artistic predilections in this frame is significant to his largely affirmative meditations in art throughout his life.

We thank Mark Cheetham, Professor of Art History at the University of Toronto and author of Landscape into Eco Art: Articulations of Nature Since the '60s, for contributing the above essay.


Estimate:
$200,000 ~ $300,000 CAD
Sold for:
$391,250 CAD (including Buyer's Premium)

All prices are in Canadian Dollars.
Although great care has been taken to ensure the accuracy of the information posted, errors and omissions may occur. All bids are subject to our Terms and Conditions of Business.