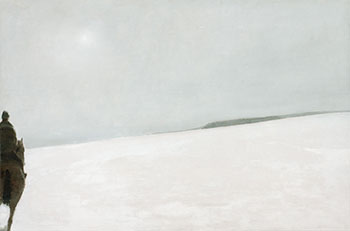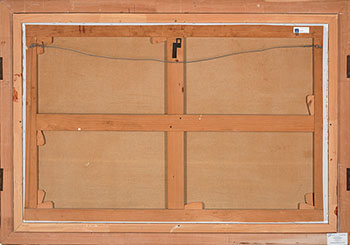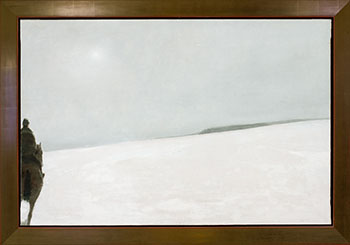 Lot # 022
Post-War & Contemporary Art Live auction

Jean Paul Lemieux
CC QMG RCA 1904 - 1990 Canadian

Le Cavalier dans la neige
oil on canvas
signed and dated 1968
35 x 54 in 88.9 x 137.1cm

Provenance:
Private Collection, Toronto
Private Collection, California

Literature:
Guy Robert, Lemieux, 1978, reproduced page 216
John R. Porter and Pierre Théberge, Hommage à Jean Paul Lemieux, National Gallery of Canada, 2004, reproduced page 103, illustration #44, listed page 118 (painting included in the artist's 1974 Autoportrait reproduced page 115, illustration #51 and on back cover, listed page 119)

Exhibited:
National Gallery of Canada, Ottawa, Hommage à Jean Paul Lemieux, October 2004 - January 2, 2005, traveling in 2005 to the Musée national des beaux-arts du Québec, Quebec City, and the McMichael Canadian Art Collection, Kleinburg, catalogue #44

This superb 1968 painting by Jean Paul Lemieux, Le Cavalier dans la neige, has resurfaced. It was one of the great works displayed at the exhibition organized by John R. Porter and Pierre Théberge, Hommage à Jean Paul Lemieux, at the National Gallery of Canada, Ottawa (October 2004 – January 2005), an exhibition that was then presented at the Musée national des beaux-arts du Québec and at the McMichael Canadian Art Collection in Kleinburg. The painter himself also favoured this piece. Indeed, we find it in his Autoportrait (Self Portrait), 1974, with another major work, Visiteur du soir (The Evening Visitor), 1956.

Lemieux relegated his horseman to the far left, a style of framing familiar to us through photography, which suggests that the landscape revealed in the visible pictorial space actually extends to the left and right beyond what is shown. We know Lemieux was taken with the horizontality of the Quebec landscape. On the right, he also observed a line of hills looming up against the horizon. But above all, we are struck by the expanse of snow in the foreground that smooths any roughness from the earth, and by the winter sky in the background. This sky is especially notable, with its pale sun glowing through a thin layer of grey clouds. Lemieux is an outstanding painter of winter skies.

A Lemieux landscape is rarely without some figure. Here, the horseman is difficult to identify at first, as he heads towards the background, with his back turned to us. Lemieux does not show us the path of the horseman in the snow - it is of no consequence to the artist to show where he is going. Lemieux's horse and rider are pure presences that hold only a minimal identity, existing outside of the present time in which horsemen are rare, having been replaced by the automobile. However, by being present in this landscape, they define the area as a "place."

Every worthy artist creates a world. In Lemieux's world we recognize ourselves, which gives his work its immense attraction. Though he objected to the idea, we have wanted to make him into a quintessential painter of Quebec. He cited his success in Moscow and Czechoslovakia to support the idea that his painting had a universal quality and should not be considered part of a new Quebec regionalism. Politically, we know that Lemieux was not too keen on the separatist cause. Also, he saw himself more as a disciple of Ozias Leduc than of Marc-Aurèle Fortin. Leduc also painted the Québécois landscape, including his Mont-Saint-Hilaire, but he knew how to give it that universal character that is reclaimed by Lemieux.

We thank François-Marc Gagnon of the Gail and Stephen A. Jarislowsky Institute for Studies in Canadian Art, Concordia University, for contributing the above essay.


Estimate:
$700,000 ~ $900,000 CAD
Sold for:
$841,250 CAD (including Buyer's Premium)

Preview at: PacArt Toronto
All prices are in Canadian Dollars.
Although great care has been taken to ensure the accuracy of the information posted, errors and omissions may occur. All bids are subject to our Terms and Conditions of Business.