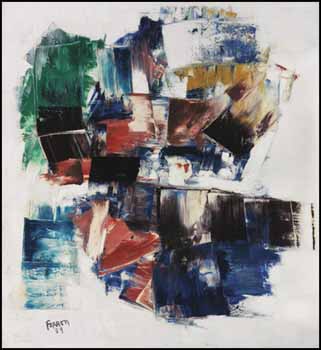 Lot # 032
Printemps 2012 - 1ère session Live auction

Marcelle Ferron
AANFM AUTO CAS QMG RCA SAAVQ SAPQ 1924 - 2001 Canadian

Cerce nacarat
oil on canvas
signed and dated 1959 and on verso signed, titled, dated and inscribed "P354" twice
63 3/4 x 59 pouces 161.9 x 149.8cm

Provenance:
Private Collection, Toronto

Marcelle Ferron was a painter and stained glass designer important to the mid-twentieth century modernization of art and culture in Quebec. A student and protégé of Paul-Émile Borduas – arguably the most significant artist of his generation in Canada – she was an active member of the avant-garde group Les Automatistes from 1946, exemplifying in her paintings the free form of abstraction inspired by Surrealism and based on abstract imagery from the unconscious and "automatic" techniques. Along with Borduas and other leading reformers, Ferron was a signatory to the 1948 manifesto Refus global (Total Refusal), a call to unfetter artistic and cultural expression in the province. Please note that an edition of Refus global is offered as lot 44 in this sale.
Like her teacher and many other progressive artists in Montreal and Quebec at this time, Ferron fell out with local art school teaching and felt the need for wider horizons. In 1953 she elected to go to Paris, where her gestural abstract paintings were well received by the French avant-garde of the time. Ferron had solo exhibits in both France and Montreal from the mid-1950s on. She returned to Quebec in 1966. Stimulated by the techniques of French glass artist Michel Blum, she was set on translating her pictorial ideas into the medium of stained glass. This she did memorably at Expo '67's International Trade Centre and in the Champ-de-Mars metro station in Montreal (installed in 1968). Ferron's contributions have been recognized appropriately: in 1983 she was the first woman to be awarded the Prix Paul-Émile-Borduas, and in 2000 she became a Grand Officer of the Ordre national du Québec.
Cerce nacarat is a strong example of Ferron's Parisian manner, as well as her growing independence from her Automatist painting of the 1940s. As vigorous in her use of the palette knife and lavish pigment as she was in her earlier canvases, here she opens the pictorial space with an expanse of cream-coloured oil. This surface is the stage on which her dramatic swaths of paint play, but it is more than a mere support or backdrop. Ferron's distinctive rectangles of colour move across and through this space, not simply on or over it.
The interactions of rich colour, texture, and dynamic form in this painting are as complex as they are visually satisfying. Ferron typically pulled one colour through others with a large palette knife to form blended, streaked shapes. These move in several directions, creating the bold, muscular whole that we see from a few paces back. Closer in, her painting becomes even more rewarding. Here we can appreciate the careful selection of hues: yellow with purple in the upper right, working visually against a blue and green pairing in the top left of the canvas. As well, up close we register the textures and varied surface relief that Ferron achieved with her knife and generous amounts of oil paint. The painting never feels deliberate or planned, never less than immediate. Yet Ferron has instinctively varied the spatial orientation of her shapes as well as her range of hues. Both colour and form move across, over, under and into each other. They suggest the power and passion of constant flux.
We thank Mark Cheetham, Professor of Art History at the University of Toronto and author of the recent Artwriting, Nation, and Cosmopolitanism in Britain: The "Englishness" of English Art Theory since the 18th Century, for contributing the above essay.


Estimation:
100,000 $ ~ 150,000 $ CAN
Vendu pour:
117,000 $ CAN (prime d'achat incluse)

Tous les prix sont en dollars canadiens.
Nous avons fait en sorte d'assurer l'exactitude de l'information affichée, mais des erreurs ou oublis peuvent se produire. Toute acquisition est soumise à nos modalités et conditions.