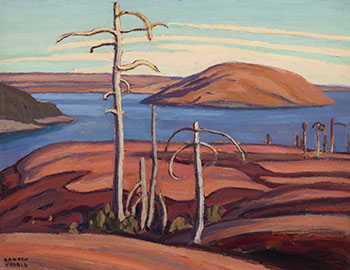 Lot # 157
Spring 2013 - 2nd Session Live auction

Lawren Stewart Harris
ALC BCSFA CGP FCA G7 OSA RPS TPG 1885 - 1970 Canadian

Pic Island, Lake Superior
oil on panel circa 1923
signed and on verso titled on the gallery label
10 1/2 x 13 5/8 in 26.7 x 34.6cm

Provenance:
Estate of Randolf MacDonald, Toronto
Galerie Walter Klinkhoff Inc., Montreal
Private Collection, Montreal

Literature:
Anne McDougall, Anne Savage: The Story of a Canadian Painter, 1977, page 43
Walt Whitman, The Complete Poems, 1995, "Song of the Open Road" from Leaves of Grass, pages 116 and 309

"He pulled out the drawers and there were his brushes as streamlined as a scientific laboratory. He had a heavy black easel. He showed me panels of Lake Superior with huge black stems of trees and a definite feeling of dignity and control. There was nothing out of place. I remember thinking isn't this extraordinary and couldn't analyse it. But after I came back I realized he was abstracting his subject. He was on his way to just shooting off into this world of nothing but light and air." (Anne Savage to Arthur Calvin)
When Savage penned these comments about Lawren Harris in 1925, she was fortunate to have visited him in his studio at a pivotal time in his artistic career. It is clear from her remarks that the visit had a dramatic effect on her. Studio visits such as this, with the sharing of ideas between artists, as well as group exhibitions and public dialogue all contributed to the rich ferment in the school of landscape painting in Canada. Eastern philosophies were being more widely read, and spiritualism, partly in reaction to the First World War, had taken hold of many creative minds. Harris and the other members of the Group of Seven were expressing ideas of idealistic nationalism through landscape art, and Harris often, in his references to the north, chose to write North with a capital, denoting its significance to him. Savage's analysis that Harris was about to enter a "world of nothing but light and air" is quite profound, especially when we take his later abstractions into account, and this work – perhaps even being one of those that Savage saw in his studio – is certainly a stepping-stone on the way to that world. While a realistic rendering of the actual colours and shapes of the Canadian landscape is still clear in the red tones of the rocky shore, the bleached bone-like trunks of the burnt-over trees and the deep blue of Lake Superior, we are clearly heading towards something profound with this painting of light and air.
In Pic Island, Lake Superior, we seem to stand, with Harris, on the edge of the uppermost rocky promontory in the near foreground of the work. From this sanctified place, we look out onto a still, unpeopled landscape. Harris's hot red ochre and orange and the cool blue of the lake are in perfect complement, and the stillness of the scene is broken only by the vertical trees and the aura of pink and yellow-toned clouds in the unending sky. The trees are like sentinels, standing guard and looking out onto the lake, facing toward the source of the light that bathes the scene in warmth.
In Anne Davis's book The Logic of Ecstasy, she compares the characteristics of nature that Harris sought to depict to those that Walt Whitman explored in the poem "Song of the Open Road", which was published in his seminal collection of poetry entitled Leaves of Grass:
The earth never tires,
The earth is rude, silent, incomprehensible at first, Nature is rude and incomprehensible at first,
Be not discouraged, keep on, there are divine things well envelop'd,
I swear to you there are divine things more beautiful than words can tell.
Harris held Whitman in the utmost esteem, as did several of his contemporaries, especially Bertram Brooker and J.E.H. MacDonald. And like Whitman, who felt that it was his duty to connect man with nature through words, so that "Nature and Man shall be disjoin'd and diffused no more", Harris felt that art and nature were deeply intertwined, and that it was his duty to connect man with nature through painting. Both art and nature, he felt, operated from the same set of rules – regardless of things as temporal as fashion and appearances. The "divine things more beautiful than words can tell" are the characteristics of nature that Harris sought in his paintings of the north shore of Lake Superior. The divine light, the elemental form, the beauty of harmonious colour and line, and the precision and order of nature in Canada's North - all are pared down to their most simple state as Nature's divine things.


Estimate:
$200,000 ~ $300,000 CAD
Sold for:
$234,000 CAD (including Buyer's Premium)

All prices are in Canadian Dollars.
Although great care has been taken to ensure the accuracy of the information posted, errors and omissions may occur. All bids are subject to our Terms and Conditions of Business.