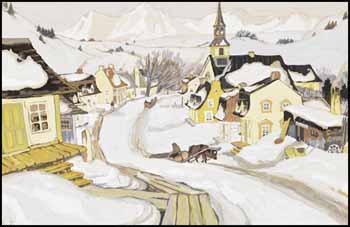 Lot # 109
Spring 2012 - 2nd Session Live auction

Clarence Alphonse Gagnon
CAC RCA 1881 - 1942 Canadian

Village in Winter
gouache on paper
initialed and dated 1931
10 1/2 x 15 1/2 in 26.7 x 39.4cm

Provenance:
Private Collection, New York

Literature:
William R. Watson, Retrospective: Recollections of a Montreal Art Dealer, 1974, page 43
Pierre B. Landry, editor, Catalogue of the National Gallery of Canada, Canadian Art, Volume Two / G-K, National Gallery of Canada, 1994, the circa 1924 canvas entitled Village in the Laurentian Mountains reproduced page 16, catalogue #3529
Anne Newlands, Clarence Gagnon: An Introduction to his Life and Art, 2005, pages 47 and 51
Hélène Sicotte and Michèle Grandbois, Clarence Gagnon, Dreaming the Landscape, Musée national des beaux-arts du Québec, 2006, the 1925 canvas entitled Village in the Laurentian Mountains, in the collection of the National Gallery of Canada, reproduced page 162, the circa 1919 - 1924 drawing entitled Village Street, County of Charlevoix reproduced page 163 and the 1925 pastel entitled Laurentian Village reproduced page 164

In 1929 Clarence Gagnon began illustrating Louis Hémon's beloved 1913 novel Maria Chapdelaine for the French publisher Les Éditions Mornay. He was exacting about his contractual terms, wanting "perfect reproduction of the originals", and specified that they were to be returned to him and the plates destroyed. William Watson writes: "For at least two years in succession while living in Paris he did not paint a single picture but worked consistently on the illustrations for Maria Chapdelaine." Village in Winter was painted during this time and, judging by the medium and size, we can speculate that it was intended for use in the book. Gagnon worked exclusively from his meticulous Quebec drawings and sketches while in Europe, and showed the important canvas Village in the Laurentian Mountains in the 1925 Wembley show in England. That canvas was purchased from Gagnon in 1927 by the National Gallery of Canada and is the source for this work. An earlier pencil drawing and a 1925 pastel of this same scene all relate directly to both the masterpiece canvas and Village in Winter.


Estimate:
$25,000 ~ $35,000 CAD
Sold for:
$32,175 CAD (including Buyer's Premium)

All prices are in Canadian Dollars.
Although great care has been taken to ensure the accuracy of the information posted, errors and omissions may occur. All bids are subject to our Terms and Conditions of Business.