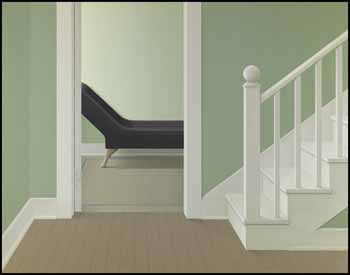 Lot # 007
Spring 2012 - 1st Session Live auction

Christopher Pratt
ARCA CSGA OC 1935 - Canadian

Landing
oil on board
signed and dated Oct. 1973 and on verso signed, titled and dated September 1973
30 x 38 in 76.2 x 96.5cm

Provenance:
Mira Godard Gallery, Toronto
Private Collection, Toronto

Literature:
David P. Silcox and Meriké Weiler, Christopher Pratt, 1982, reproduced page 113
Joyce Zemans, Christopher Pratt: A Retrospective, Vancouver Art Gallery, 1985, reproduced page 27 and listed page 92
David P. Silcox, Christopher Pratt: Personal Reflections on a Life, 1995, reproduced page 89
National Gallery of Canada, www.gallery.ca/en/see/collections/artist.php?iartistid=4433, accessed February 2011

Exhibited:
Vancouver Art Gallery, Christopher Pratt: A Retrospective, November 23, 1985 - January 26, 1986, traveling to the Art Gallery of Ontario, Toronto, February 21 - April 20, 1986

Christopher Pratt is one of Canada's most recognized and acclaimed artists. The abiding success of his paintings and prints over a long, productive career stems in large measure from their directness and unpretentiousness. Yet the merits of accessibility are not sufficient to explain Pratt's appeal. The simplicity of his work is never simplistic; there is always much more in his images than what so readily meets the eye.
Pratt's work is stamped indelibly with both familiarity and mystery. A published poet, his images are also poetic in the sense of being highly personal and acutely observed. Pratt's habitual subjects are drawn from his native Newfoundland and can be readily categorized: landscapes, figures, boats and architecture. Landing is a classic example of his accomplishments in the last group. Pratt's buildings are important personally, not architecturally or historically. He reports in an interview conducted by the National Gallery of Canada that "buildings have personalities that resonate with me." He goes on to say, "I tend to remember incidents in my life in terms of where they happened." Interiors are in a sense his interior, yet their neutrality asks viewers to enter imaginatively into the scene.
As observant of himself as he is about his environment, Pratt subdivides his indoor architectural works into two main categories: those that allow the spectator a view beyond the interior and those that remain enclosed, with no visual escape. Pratt comments wryly in the interview that only a psychiatrist could explain why he works this way. Landing shows us an enclosed domestic space, certainly, but it is not a place that betokens the frustration of being trapped, as some of his images do. Our eyes can travel straight ahead, from the landing of the title into the room with the unusual mauve-brown chaise longue, or they can move up the stairs. Tellingly, the door into the room ahead is fully open, the fine shadow-line of its jamb working with Pratt's other carefully rendered vertical and horizontal lines to frame the room securely for our vision. There is nothing vertiginous about this space. Yet, typical of Pratt's images, it asks us to look harder and longer.
As we dwell visually in the space, we might acknowledge how unphotographic it is. Pratt works from memories and studies of architectural spaces, not from photographs. Why? Because he seeks to render what he remembers, not what a camera would record, which would be much more. The realism of this image comes, then, not from how much detail it reveals but instead from how radically it has been edited. Nor does this realism stem from a human narrative; there are no people and no stories for us to latch onto. The sense of truth we find in Landing is the result of distillation, of the selection of visual data by the artist.
What Pratt chooses to show us in his precise way is the subtle and potentially profound play of light, colour and line that for us constructs the interior we see. We might surmise that the green of the nearer walls is the same shade as that in the next room, and that these surfaces appear different because more light falls on the wall further away. The floor coverings in the two spaces, however, are different. One is wood; it is darker, and it has a pattern because of its boards. The other is carpet and lighter, also because of its greater illumination. Its blue bordering line runs the other way from the pattern of the floorboards. The prominent screws in the door hinge are turned on three different angles, quietly disrupting the work's regularity.
But what of the prominent chaise longue which announces its reality by casting shadows on the floor and wall? Curvilinear, an unusual colour and the centre of attention, it is as uncanny as it is identifiable. It provides the mystery of the everyday.
We thank Mark Cheetham, Professor of Art History at the University of Toronto and author of the recent Artwriting, Nation, and Cosmopolitanism in Britain: The "Englishness" of English Art Theory since the 18th Century, for contributing the above essay.


Estimate:
$60,000 ~ $80,000 CAD
Sold for:
$198,900 CAD (including Buyer's Premium)

All prices are in Canadian Dollars.
Although great care has been taken to ensure the accuracy of the information posted, errors and omissions may occur. All bids are subject to our Terms and Conditions of Business.