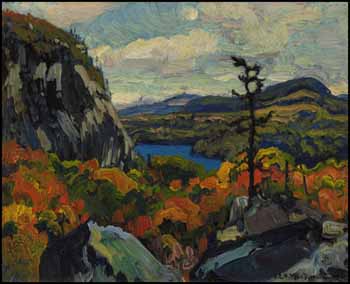 Lot # 106
Spring 2012 - 2nd Session Live auction

James Edward Hervey (J.E.H.) MacDonald
ALC CGP G7 OSA RCA 1873 - 1932 Canadian

Early Autumn, Montreal River, Algoma
oil on board
signed and dated 1919 and on verso signed, titled and inscribed "28992"
8 1/2 x 10 3/8 in 21.6 x 26.3cm

Provenance:
Acquired directly from the Artist by Percy and Gertrude Wells Hilborn, Ontario
By descent to the present Private Collection, Ontario

Literature:
Charles C. Hill, The Group of Seven: Art For A Nation, National Gallery of Canada, 1995, pages 79 and 80

Early Autumn, Montreal River, Algoma is a delightful and joyous bouquet of colour. Related closely to several of J.E.H. MacDonald's masterworks such as October Shower Gleam and The Solemn Land, this work comes from the second boxcar trip arranged by Lawren Harris into Algoma country. Harris, after his discharge from the army in 1918, had traveled to Manitoulin Island with James MacCallum on a respite to aid in his recovery. Not finding the scenery to his liking, Harris suggested a side trip on the Algoma Central Railway to find more appealing views. It was on this side trip that he first encountered Algoma and the inspiration for the boxcar trips came. Harris organized the first boxcar excursion in the fall of that year and included Frank Johnston and MacDonald – whom he had to urge, as MacDonald was also recovering from recent illnesses. A third trip, the second of the boxcar expeditions, saw the inclusion of A.Y. Jackson, who had just returned from France, and took place in September of 1919. Jackson describes the scenery as vivid with changing hues: "The colour is disappearing very fast. The reds were gorgeous when we first came, but now it is all orange and yellow." This striking work comes from that trip, and if we can take Jackson's writing literally, it comes from early in the trip, as the reds are indeed gorgeous.
At this time, MacDonald's work was heavily influenced by his work in design. There is a clear link between this rhythmic painting and the artistry of his beautiful bookplates and lyrical poster designs, but Algoma's ruggedness would add an edge to MacDonald's work that had not been there before; wherein gentility is replaced by wildness, soft lines replaced by bold ones and low-keyed colour heightened by the vivid fall hues he saw at Algoma. He described the land as being "after Dante's heart. The canyon is like a winding way to the lower regions and last night, when the train went through just after dark, with the fireman stoking up, the light of the fire shining on the smoke clouds, it was easy to imagine his Satanic majesty taking a drive through his domain…..The great perpendicular rocks seemed to overhang as though they might fall any minute and the dark Agawa moving quietly through it all had an uncanny snakiness. On a fine day, such as this, the canyon seemed to lead upwards and has all the attributes of an imagined Paradise, excepting, perhaps, anything in the way of meadows. There are beautiful waterfalls on all sides, and the finest trees – spruce, elm, and pine."
Early Autumn, Montreal River, Algoma literally dances with colour, pattern and movement. The repeating chevrons of brushwork in the foreground forest are echoed and balanced by the vibrant blues in the sky, and the deep indigo of the river, almost dead centre in the work, is especially rich. MacDonald was a master of colour, often noting in the margins of his notebooks which pigments were essential for the region he was sketching. His ability to observe and to translate the essential character of the landscape into his sketches was foundational in his art, and proved invaluable to his career. As MacDonald increased in stature as an educator, he devoted more and more of his time to teaching and had less time to sketch in the field. He would rely on his plein air sketches for inspiration when he had time to work in his studio. Gems such as this evocative painting were essential to him as they had the power to transport him back to the hills above the Montreal River, to take him back into the wilderness that laid the foundations for his early masterworks.
This sketch comes to auction at Heffel through the family of Percy and Gertrude Wells Hilborn and their daughter Esther, and by association with their friends Sam and Kitty Williams. The Williamses had a cottage on Georgian Bay, and were neighbours of one of Jackson's cousins who also had a cottage there. The Williamses frequently entertained the Hilborns and members of the Group at their cottage and supported them by purchasing their work, especially that of Jackson. The Hilborns donated Jackson's masterwork canvas First Snow, Algoma to the McMichael Canadian Art Collection in 1969 and Esther subsequently made important gifts to the McMichael Canadian Art Collection, the National Gallery of Canada and the Kitchener-Waterloo Art Gallery.


Estimate:
$80,000 ~ $100,000 CAD
Sold for:
$526,500 CAD (including Buyer's Premium)

All prices are in Canadian Dollars.
Although great care has been taken to ensure the accuracy of the information posted, errors and omissions may occur. All bids are subject to our Terms and Conditions of Business.