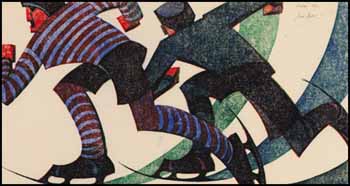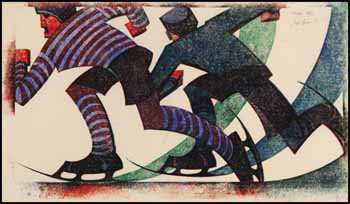 Lot # 103
Spring 2012 - 2nd Session Live auction

Sybil Andrews
CPE 1898 - 1992 Canadian

Skaters
linocut in 4 colours 1953
signed, titled and editioned 26/60
7 7/8 x 14 3/4 in 20 x 37.5cm

Provenance:
DeVooght Gallery, Vancouver
Private Collection, Vancouver

Literature:
Peter White, Sybil Andrews, Glenbow Museum, 1982, reproduced page 61
Lora S. Urbanelli, The Grosvenor School: British Linocuts Between the Wars, Museum of Art, Rhode Island School of Design, 1988, same image reproduced page 45
Stephen Coppel, Linocuts of the Machine Age, 1995, reproduced page 120, catalogue #SA 52

Exhibited:
Glenbow Museum, Calgary, Sybil Andrews, 1982, same image, catalogue #49
Museum of Art, Rhode Island School of Design, The Grosvenor School: British Linocuts Between the Wars, January 22 - March 20, 1988, traveling in 1988 to the Cleveland Museum of Art and the Santa Barbara Museum of Art, same image, catalogue #8

The image of the skater on the left was initially used in a design for a London Passenger Transport Board poster Sybil Andrews made in the 1930s in collaboration with Cyril E. Power, advertising ice-hockey matches at Wembley Park. Although this linocut was made in 1953 after she had moved from England to Vancouver Island, it retains the spirit of the 1930s. While in England, Andrews was part of the Grosvenor School of linocut artists, whose modernist work was influenced by the Futurist movement and the changes wrought by industrialization. The subject of sport was ideal for portraying the energy of coordinated movement, and Andrews also depicted horse races, football players and rowers. What was emphasized about these figures in synchronized movement was their teamwork and their anonymity, as opposed to the individuality of sports heroes, reflecting the social and egalitarian outlook shared by the Grosvenor School. This dynamic print reinforces the intensity of the skatersí forward thrust by elongating their skate blades against a background of the stylized curves of their track, their bodies moving as finely-balanced racing machines.
This is a superb, richly coloured impression on thicker paper.


Estimate:
$10,000 ~ $15,000 CAD
Sold for:
$32,175 CAD (including Buyer's Premium)

All prices are in Canadian Dollars.
Although great care has been taken to ensure the accuracy of the information posted, errors and omissions may occur. All bids are subject to our Terms and Conditions of Business.