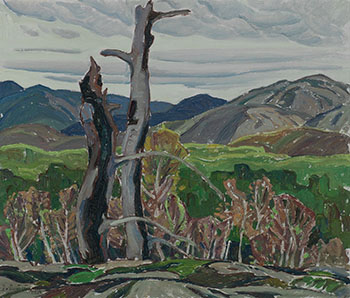 Lot # 107
Spring 2012 - 2nd Session Live auction

Franklin Carmichael
CSPWC G7 OSA RCA 1890 - 1945 Canadian

La Cloche Hills
oil on board
signed and on verso titled and dated 1936
9 7/8 x 11 7/8 in 25.1 x 30.2cm

Provenance:
Laing Galleries, Toronto
Galerie Walter Klinkhoff Inc., Montreal
Warwick Gallery Ltd., Vancouver
An Important Private Estate, Toronto

Franklin Carmichael was the youngest of the founding members of the Group of Seven and a close friend of A.J. Casson. He spent much of his career working as a commercial designer, first at Grip Ltd., where he met the other artists who would form the Group of Seven, then later at Rous & Mann Ltd. and Sampson Matthews Limited. While he is less known for his work in industrial and commercial design, he is credited with several unique creations in kitchenware and utilitarian objects. In all of his creative life, he was a groundbreaker. His style was influenced by Tom Thomson, with whom he had shared a studio over the winter of 1914 / 1915, and his mature work, such as this lively scene painted in the La Cloche Hills of Ontario's Killarney Provincial Park, often brings to mind the works of another groundbreaker, David Milne.
Carmichael worked in oil in the early part of his career, creating bold works that boast a masterful use of white. He began to work in watercolour in the mid-1920s, demonstrating that this medium could be as forceful and strong as oil when used to depict the wild Canadian landscape. Together with Casson and Frederick Brigden, he founded the Canadian Society of Painters in Water Colour in 1925, which gave new prominence to this method of painting. His skill as a watercolourist can be seen in the way he approached his oils; he gave a great deal of forethought to the finished work before he lifted his brush. At first glance at works such as this, we are reminded both of watercolour and printmaking, until the sheen of his oil tells us otherwise.
In all the mediums he undertook to use, Carmichael was particularly adept at handling negative space, and his mastery of it shines through in this view of the La Cloche Hills on a cloudy day. Here, the rolling grey clouds echo the grey hills, grey tree trunks and grey foreground rocks, all of which are tied together by the grey negative spaces between tree limb and forest, in the hollows between rocks and patches of grass, along the furrows and clefts in the hills, as well as in the sky. This unity of colour and space gives the work a lively, all-over patterned feeling that balances well with the palette of the work. The angled brushwork on the smaller tree limbs contrasts with the bolder brushwork in the green hills and foreground rocks, and flows nicely into the smooth brushwork of the sky and distant mountains. The additional balance of foreground, middle distance and background, so classically handled by Carmichael – accentuated with the vertical starkness of bare, burned-out tree trunks – results in a very satisfying scene.
The La Cloche Mountains are a frequent place name in titles of sketches by members of the Group of Seven. In addition to Carmichael, A.Y. Jackson, Arthur Lismer, Lawren Harris and J.E.H. MacDonald all sketched there at various times, but the region was of the greatest importance to Carmichael, who was especially attracted to the unique topography there due to the strong visual predominance of white, as vast expanses of crystalline quartzite reflect sunlight and sparkle against the darker colours of forest and trees. Carmichael's interest in this effect can be seen in this oil, and would figure prominently in the works he produced in the latter part of his life. He painted there often, and Mount Carmichael and Carmichael Lake are named in honour of his works depicting the region. Carmichael died suddenly at the age of 55, thus mature works such as this are rare.


Estimate:
$90,000 ~ $120,000 CAD
Sold for:
$93,600 CAD (including Buyer's Premium)

All prices are in Canadian Dollars.
Although great care has been taken to ensure the accuracy of the information posted, errors and omissions may occur. All bids are subject to our Terms and Conditions of Business.