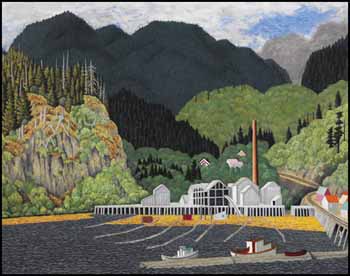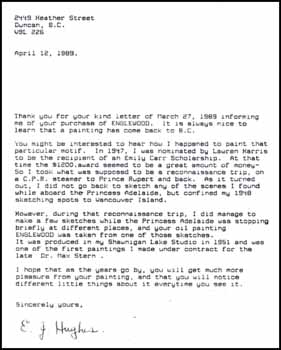 Lot # 052
Spring 2012 - 1st Session Live auction

Edward John (E.J.) Hughes
BCSFA CGP OC RCA 1913 - 2007 Canadian

Englewood
oil on canvas
signed and dated 1951 and on verso inscribed with the Dominion Gallery inventory #B8060 and stamped Dominion Gallery
25 x 32 in 63.5 x 81.3cm

Provenance:
Dominion Gallery, Montreal
Private Collection, Vancouver

Literature:
Jacques Barbeau, A Journey with E.J. Hughes, 2005, a 2002 watercolour based on this painting entitled Englewood reproduced page 90
The E.J. Hughes Album, The Paintings - Volume I, 1932 - 1991, 2011, reproduced page 14

The Second World War was a period of enormous artistic importance for E.J. Hughes. His work as an official war artist allowed him, for the first time in his life, to devote himself full time to his art. The ability to concentrate on his painting allowed him to establish the working methods that he employed for the rest of his career. Paintings were developed from detailed drawings that he made on the spot, and these drawings, annotated with colour notes, allowed him to recreate a scene when he was far removed from the subject and, often, years later.
The return to civilian life meant that Hughes could no longer devote himself simply to his painting; he needed to find a way to support himself and his wife Fern. There was virtually no art market in British Columbia at the time and he found it difficult to make ends meet. Initially he and his wife had planned to run a rooming house in Victoria with Hughes acting as handyman and caretaker. He hoped that these duties would leave him with plenty of time to paint. He soon found, however, that this plan was not workable and he had difficulty finding enough painting time. Fortunately his efforts were not going completely unnoticed, and in 1947 Hughes was awarded an Emily Carr Scholarship by Lawren Harris. It was a significant turning point for Hughes. The award, some $1,200, allowed him to think about painting seriously. He was able to divide the money between 1947 and 1948. In the first year he undertook, on the CPR coastal steamer Princess Adelaide, a reconnaissance trip to scout out possible painting subjects. The vessel brought supplies and passengers to many places on both the Mainland and Vancouver Island, including the small logging community of Englewood situated on Beaver Cove off Johnstone Strait, on northern Vancouver Island.
As Hughes explained in the letter that accompanies this lot, when he returned to various sites the following year (1948) to develop more detailed drawings for paintings, he concentrated on subjects further south on Vancouver Island. He did, however, "manage to make a few sketches while the Princess Adelaide was stopping briefly in different places" and this fine canvas "was taken from one of those sketches." Hughes has produced a striking composition. We see Englewood, or more precisely the logging operation of the community, from the water as the Princess Adelaide was either approaching or leaving. Hughes has paid attention to the buildings of the mill but has coloured them grey, which provides a remarkable contrast to the myriad colours in the natural world – greens, ochres, blues, grays and blacks. Hughes has also been careful to guide the passage of the eye through his composition, using spots of colour (such as the green window on the building on the boom at the centre of the composition) and more formal devices such as the floating dock in the foreground and the railway line which meanders back into the composition. The strong vertical element of the smokestack provides a link between the lower and upper sections of the composition. What is striking about the painting is that, despite the lack of human activity, it seems to shimmer with life. Whether in the choppy waves of the sea or the complex patterns of trees or the scudding clouds, everywhere the eye moves there is vitality.
Hughes ended his letter to the owners of this painting by writing, "I hope that as the years go by, you will get much more pleasure from your painting, and that you will notice different little things about it every time you see it." Englewood is a feast for the eye and there seems little doubt that Hughes's aspirations for this magnificent work were abundantly realized.
Included with this lot is a copy of a letter from E.J. Hughes to the consignor regarding this painting and the origin of this image.


Estimate:
$250,000 ~ $350,000 CAD
Sold for:
$292,500 CAD (including Buyer's Premium)

All prices are in Canadian Dollars.
Although great care has been taken to ensure the accuracy of the information posted, errors and omissions may occur. All bids are subject to our Terms and Conditions of Business.