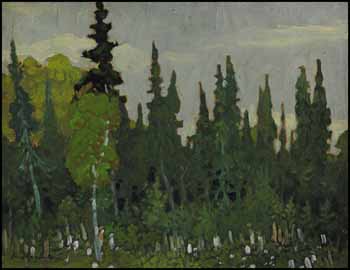 Lot # 119
Spring 2012 - 2nd Session Live auction

Frank Hans (Franz) Johnston
ARCA CSPWC G7 OSA 1888 - 1949 Canadian

Algoma Tapestry
oil on panel
signed Frank H. Johnston and on verso titled and dated 1918
12 x 15 3/4 in 30.5 x 40cm

Provenance:
Roberts Gallery, Toronto
Family of Tom Thomson
By descent to the present Private Collection, Calgary

Literature:
Charles C. Hill, The Group of Seven, Art for A Nation, National Gallery of Canada, 1995, page 83
Roger Burford Mason, A Grand Eye for Glory: A Life of Franz Johnston, 1998, page 36

Algoma Tapestry is a rare early work that not only comes from the very first boxcar trip taken by Frank Johnston, Lawren Harris and J.E.H. MacDonald to Algoma, but also has a special provenance, having passed by descent through the family of Tom Thomson to auction with Heffel. This fine work, exemplary of Johnston's decorative and panoramic style, was painted in the fall of 1918 when the aforementioned artists, together with James MacCallum, went by train from Toronto to Sault Ste. Marie, and from there to Canyon, 113 miles north, where they spent a week painting the vivid and ever-changing autumn landscape. From Canyon they moved to Hubert on the Montreal River and then on to Batchawana, returning to Toronto in early October. Despite the poor weather and constant grey skies, Johnston was prolific, producing 33 plein air sketches. Upon his return to Toronto, he, Harris and MacDonald drew on this material to produce sufficient work to mount a show at The Art Gallery of Toronto (now the Art Gallery of Ontario) in April of 1919, a show that was considered a success. In their accompanying text, the artists called upon their audience to accept the works as "evidence that Canadian artists were interested in the discovery of their own country." Brief statements, later termed "Algomaxims", accompanied the works, such as "The great purpose of landscape art is to make us at home in our own country." Another stated, "The old masters were young servants once," and would have been directed at painters far senior to the fledgling members of the Group, but holds a telling irony for us looking back at their work now.
The pictures were arranged chronologically, documenting the course of the journey as well as the changing colours of autumn. One can assume then – by comparison with other works from this trip – that Algoma Tapestry, due to the still-bright greens of the deciduous trees, is a very early first boxcar trip sketch. A second boxcar trip and another show followed in the fall of 1919, and it was on these two trips that Johnston sketched many of the scenes that would inspire his masterworks now residing in major public collections. The boxcar trips are an extraordinary, almost mythic, chapter in Canadian art history, wherein likeminded individuals experienced something quite profound and produced work that has shaped the national identity of Canada's visual arts. We tend to see the Group as a unit, and the danger of this lies in forgetting that each painter was a very unique artist with his own individual aspirations. Johnston was a family man, an especially strong individualist, and felt that he could forge a path on his own, having had better sales at his solo exhibitions than he did with the Group. The camaraderie and critical discourse of the artists who would become the Group of Seven was highly influential in Johnston's work, but not so much as to influence his work to be similar to theirs; conversely, Johnston sought stylistic independence. He wanted his work to be discernable from that of the others, and would soon break from the Group, taking a job in Winnipeg shortly after the painters formalized themselves as the Group of Seven.
Johnston's work is indeed different – he often selected a more panoramic view than his fellow painters, a feeling conveyed as much by the open treatment of the skies and forests in his works as by his ability to capture depth and pattern with clarity. His works are generally less tangled and wild, showing us a more approachable sort of wilderness. Sadly, Johnston would destroy much of his early Group period work in the 1930s; Franklin Arbuckle speaks of the artist "destroying about a hundred of his Group of Seven paintings" at that time. This lack of material has no doubt left gaps in our appreciation of Johnston's work and further confirms the rarity of Algoma Tapestry.


Estimate:
$40,000 ~ $50,000 CAD
Sold for:
$46,800 CAD (including Buyer's Premium)

All prices are in Canadian Dollars.
Although great care has been taken to ensure the accuracy of the information posted, errors and omissions may occur. All bids are subject to our Terms and Conditions of Business.