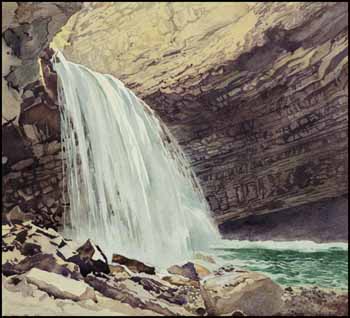 Lot # 104
Spring 2012 - 2nd Session Live auction

Walter Joseph (W.J.) Phillips
ASA CPE CSPWC RCA 1884 - 1963 Canadian

The Cave, Johnson's Creek
watercolour on paper
signed, titled in the margin and dated 1945
15 1/2 x 17 in 39.4 x 43.2cm

Provenance:
Private Collection, Ontario
Private Collection, Toronto

Literature:
Michael J. Gribbon, Walter J. Phillips, A Selection of His Works and Thoughts, National Gallery of Canada, 1978, the 1945 watercolour titled as Falls, Johnson Canyon reproduced page 76 and the 1947 watercolour Johnson's Creek, near Banff reproduced page 79
Roger Boulet, The Tranquility and the Turbulence, 1981, pages 201 and 203, the 1945 watercolour Johnson's Canyon reproduced page 209 and the 1946 watercolour Waterfall, Johnson's Canyon, in the collection of the National Gallery of Canada, reproduced page 211

Walter J. Phillips is known for his extraordinary body of work in both woodcut and watercolour. Phillips had a particular interest in waterfalls, seeking them out on his sketching rambles. Amongst his depictions of these tumbling and foaming wonders, none are more outstanding than his watercolours of Johnson's Creek's waterfalls near Banff. His sensitive appreciation is clear in his unpublished manuscript I Like Waterfalls. He wrote, "Water is the most expressive element in nature. It responds to every mood from tranquility to turbulence…..Here is water in all its forms – the clear stream, foam, spray, and still smaller drops suspended in the air – a translucent veil in which a rainbow is often woven." Phillips described several falls along Johnson's Creek, including this particular one, stating, "On my next trip I came upon a waterfall spilling into an immense water-worn cavity in the rock…..Within the cave the sound of the falling water was increased to a deafening roar." The Cave, Johnson's Creek, with its almost miraculous rendering of this dramatic plunging waterfall amidst exquisite textures of the rockface, shows Phillips at his most masterful.


Estimate:
$15,000 ~ $20,000 CAD
Sold for:
$15,795 CAD (including Buyer's Premium)

All prices are in Canadian Dollars.
Although great care has been taken to ensure the accuracy of the information posted, errors and omissions may occur. All bids are subject to our Terms and Conditions of Business.