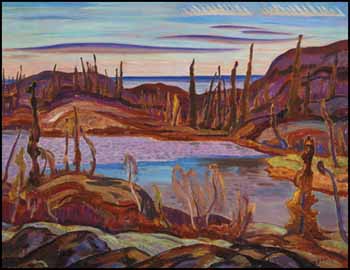 Lot # 118
Spring 2012 - 2nd Session Live auction

Alexander Young (A.Y.) Jackson
ALC CGP G7 OSA RCA RSA 1882 - 1974 Canadian

Morning, Great Bear Lake
oil on canvas
signed and on verso signed, titled, dated 1938 on the Dominion Gallery label, inscribed with the Dominion Gallery inventory #H870 and stamped Dominion Gallery
28 x 36 in 71.1 x 91.4cm

Provenance:
Collection of the Artist
Dominion Gallery, Montreal, acquired from the Artist in February 1948
Private Collection, Montreal, acquired from the above on July 24, 1950
By descent to the present Private Collection, Toronto

Literature:
A.Y. Jackson, A Painter's Country, The Autobiography of A.Y. Jackson, 1958, pages 122 and 123
Wayne Larsen, A.Y. Jackson, The Life of a Landscape Painter, 2009, the circa 1939 canvas South from Great Bear Lake, in the collection of the Art Gallery of Ontario, Toronto, reproduced page 176

In 1938 A.Y. Jackson was invited to visit the newly discovered Eldorado Mine at Port Radium on the shores of Great Bear Lake. Ever the adventurer, and by this time a Canadian celebrity, Jackson was flown by Gilbert LaBine's company plane from Edmonton to Cooking Lake, further to Fort Smith, then on to Great Slave Lake for an extended stay at what he called "…..a little centre of industry in a great empty wilderness." While few of the miners showed any interest in Jackson's art, he enjoyed a day's company with J.B. Tyrell, a geologist of international fame and namesake of the Royal Tyrell Museum in southern Alberta. Tyrell was celebrating his 80th birthday with a trip to the North, visiting the Eldorado area and then heading further north to Coppermine.
In his autobiography Jackson recounts details of most of his travels, and Great Bear Lake is no exception: "I spent six weeks at Eldorado, from August into October. The weather was lovely. I wandered over the rocky hills, which were easy to traverse. There were patches of spruce and small birch, and muskeg lakes, but mostly open rock." He had fine weather well into early October, and works such as this vibrant morning scene attest to his affinity for the scenery. The rolling rocks and shoreline, the harmonious tapestry of fall colour and vast, panoramic skies gave Jackson endless vistas to choose from, and his appreciation for the North, honed on his Arctic journeys with Lawren Harris, and on his own trip to Yellowknife, had whetted his appetite for this vast, vivid landscape. He commented, "Ten years earlier I had been as far as Yellowknife and I always had a yearning to see what kind of country lay beyond." His fine paintings of this region, including masterworks such as South from Great Bear Lake, in the collection of the Art Gallery of Ontario, attest to his affinity for the landscape.
Jackson saw more of Canada than any other member of the Group of Seven. His works paint a picture of the vast variety of topography in Canada. He was a feeling painter, particularly sensitive to the rhythm of the landscape. His appreciation for the subtle contrasts of colour in a bed of moss, of the tones of blue and purple in thin wispy clouds in the sky as the sun rose, and for the lyrical movement in scrubby, weather-worn trees is quite poetic. Jackson's painting trips were almost all undertaken on foot, and even when in populated areas he sought out open spaces. He preferred to walk to reach his sketching spots, and it is this time spent on the land, in physical contact with its very surface, that is so evident in his works. He knew the surface of the country intimately, and loved to paint its endless variety. His autobiography and other writings are filled with the anecdotal observations of a seasoned walker – the depth of ditches, the quality of mud on the roads, the challenge of navigation on snowshoes in crusty snow or the problems of unnoticed patches of bramble and thistles. He preferred these intimate details, and noticed them before the vast panorama. His works attest to this, and Morning, Great Bear Lake is an especially fine example. In this canvas, he has given a great deal of attention to the shades of purple, blue and red in the foreground rocks, and their texture and weight, even their coolness, is palpable in the work. The soft green of the lichen or moss on the rocks just behind them is a lovely contrast. Jackson's earthy palette, taken directly from nature's colouration, is enlivened by his hand. The spotty pattern of reflections on the wind-stirred water, the licks of bright yellow where autumn has singed the few remaining trees, the bright blue of clear, still water in the middle distance are characteristic of his technique. The sky in particular is lovely, with a spectrum of colour from a pale, golden pink to deep cobalt blue, all blended by the sunrise. Parts of the land have been gilded by the morning sunlight; others are still in cool fall shadow. It is a richly painted scene, earthy and true to the region's unique qualities.


Estimate:
$300,000 ~ $350,000 CAD
Sold for:
$409,500 CAD (including Buyer's Premium)

All prices are in Canadian Dollars.
Although great care has been taken to ensure the accuracy of the information posted, errors and omissions may occur. All bids are subject to our Terms and Conditions of Business.