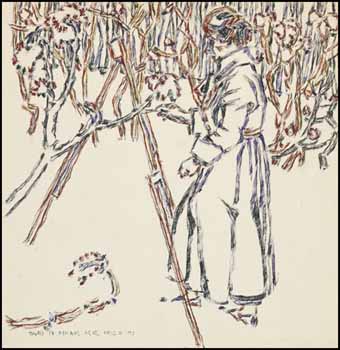 Lot # 108
Spring 2012 - 2nd Session Live auction

David Brown Milne
CGP CSGA CSPWC 1882 - 1953 Canadian

Woman Standing at Easel
watercolour on paper
signed, dated Dec. 11, 1921 and inscribed "M.R."
15 5/8 x 15 3/8 in 39.7 x 39cm

Provenance:
Galerie Agnès Lefort, Montreal
An Important Private Estate, Montreal

Literature:
David P. Silcox, Painting Place: The Life and Work of David B. Milne, 1996, page x
David Milne Jr. and David P. Silcox, David B. Milne: Catalogue Raisonné of the Paintings, Volume 1: 1882 - 1928, 1998, page 342, reproduced page 342, catalogue #204.26

Exhibited:
Art Association of Montreal, Exhibition of Water-Colour Drawings by David B. Milne, January 1 - 19, 1924, titled as Figure in the Sun, catalogue #102
Arts Club, Montreal, David Milne, January - February 1924, titled as Figure in the Sun

David Milne was one of the most accomplished artists of his generation, whether in Canada or beyond. He was as profound a thinker about the processes of art as he was prolific, producing over 6,000 works in oil, drypoint, drawing and watercolour during a career of over 50 years. Milne also distinguished himself as a writer about his own work and as a war artist of penetrating vision at the conclusion of World War I.
Born in Bruce County in rural southwestern Ontario, Milne was ambitious enough to leave at age 21 to study at the Art Students League in New York City (1903 to 1905). Here he came to know both American and European Impressionism, Post-Impressionism and Fauvism, styles that would shape his own unique approach to artmaking. Milne was successful in New York; his work was exhibited and noticed approvingly. The best measure of this early acclaim was his participation in two of North America's most important exhibitions of avant-garde art in the early twentieth century: the Armory Show of 1913 (seen in New York, Boston and Chicago) and the Panama-Pacific International Exposition at the World's Fair held in San Francisco in 1915.
It is significant that Milne showed watercolours in both these prestigious exhibitions. The delicacy, intimacy and speed of execution characteristic of this medium defined what he wanted his art to be. Milne also valued the small scale typical of watercolours. "The thing that makes a picture is the thing that makes dynamite – compression," he wrote. "It's an explosion. Everything must hit at once." Woman Standing at Easel encapsulates this and many other qualities. It was painted during a highly productive time in Milne's long stay in upstate New York. Mt. Riga is a hamlet near Boston Corners, the centre of Milne's activities in this region. Milne and his wife Patsy moved to Mt. Riga in October of 1921. In this month he began making work with accompanying notes marked by the "M.R." notation that we see after his signature in this work.
As the catalogue raisonné relates, Milne wrote, "Patsy and I walked up the trail above Rudd Pond at noon Sunday and each made a sketch. As is often the case I did not realize how the larger shapes would simplify against each other until they were on paper. The head and clumps of sumach would have been clearer if left clear white instead of attempting to be literal and use richer color to mark them." Milne was habitually specific about the time and place of his work and he usually focused on formal challenges in both his painting and explanations. Here Patsy becomes a "larger shape" that must be simplified and integrated into the visual details of the foliage behind her. The contrast of detail and scale is accomplished by leaving the foreground almost completely open. Colour is another issue. While Milne notes that richer colour would have been more literally accurate, again he simplifies, using a restrained and exquisitely subtle palette of blue, black, red and green, hues that highlight rather than fill the spaces they touch.
While Milne's means and intentions were decidedly compressed, this watercolour especially invites us to think more expansively as well. He reflects here on the difficult yet thrilling assimilation of nature into art by setting the easel prominently across the centre of the image. Its straight wooden legs integrate yet contrast with the tangle of sumachs that surround and almost consume it. The watercolour is a meditation on painting itself.
We thank Mark Cheetham, Professor of Art History at the University of Toronto and author of the recent Artwriting, Nation, and Cosmopolitanism in Britain: The "Englishness" of English Art Theory since the 18th Century, for contributing the above essay.


Estimate:
$30,000 ~ $40,000 CAD
Sold for:
$49,725 CAD (including Buyer's Premium)

All prices are in Canadian Dollars.
Although great care has been taken to ensure the accuracy of the information posted, errors and omissions may occur. All bids are subject to our Terms and Conditions of Business.