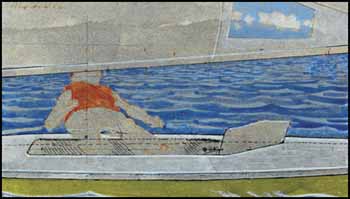 Lot # 023
Spring 2012 - 1st Session Live auction

Alexander Colville
PC CC 1920 - 2013 Canadian

Study for Laser
mixed media on card
signed, dated 1976 and inscribed in the margin by the artist with his colour and measurement notes
4 1/2 x 7 7/8 in 11.4 x 20cm

Provenance:
Fischer Fine Art Limited, London
Marlborough-Godard, Toronto
An Important Private Estate, Montreal

Literature:
Marina Vaizey, Alex Colville, Fischer Fine Art Limited, 1977, the 1976 painting entitled Laser and two other studies for Laser entitled Study for Laser and Figure Study for Laser reproduced page 9
David Burnett, Colville, Art Gallery of Ontario, 1983, the 1976 painting entitled Laser, in the collection of the Staatliche Museen zu Berlin, reproduced page 234
David Burnett, Alex Colville: Prints and Paintings, 1985, the 1976 painting Laser reproduced page 12

Alex Colville is a Canadian realist artist of great international repute. Fischer Fine Art, which exhibited this work in 1977, was Alex Colville's dealer in London, England for many years. Great interest was taken in Colville's work by European museums and collectors, reflected in the fact that the painting for this fine study is in the collection of Germany's Staatliche Museen zu Berlin. In the catalogue for the 1977 exhibition that included the painting Laser, the text was also in German.
In preparing for his paintings, Colville does a series of studies in which he determines sightlines, compositional elements and colour, and an acrylic work would likely have evolved from earlier pencil drawings. In this vital study which contains all the main elements of the final painting, the figure's face is partially hidden. The main focus is on the balance and tautness of the body in assured control of the boat, in harmony with wind and water. With his careful observations and distillations of pictorial elements Colville shapes his image, transforming the known world into something extraordinary.


Estimate:
$15,000 ~ $20,000 CAD
Sold for:
$38,025 CAD (including Buyer's Premium)

All prices are in Canadian Dollars.
Although great care has been taken to ensure the accuracy of the information posted, errors and omissions may occur. All bids are subject to our Terms and Conditions of Business.