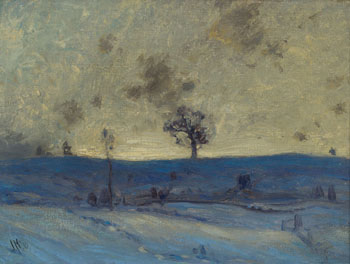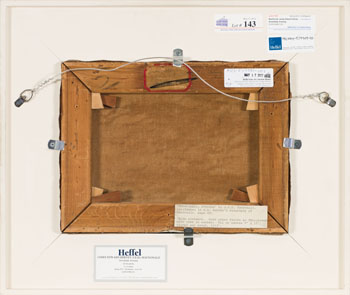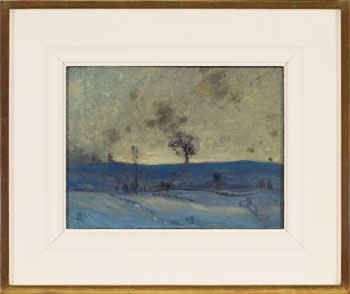 Lot # 143
Spring 2012 - 2nd Session Live auction

James Edward Hervey (J.E.H.) MacDonald
ALC CGP G7 OSA RCA 1873 - 1932 Canadian

Snowfields, Evening
oil on canvas
initialed and dated 1913 and on verso signed and titled on a label and inscribed "J.M.'s writing – T.M."
9 x 12 in 22.9 x 30.5cm

Provenance:
Masters Gallery, Calgary
Kenneth G. Heffel Fine Art Inc., Vancouver
Private Collection, Edmonton
Sold sale of Fine Canadian Art, Heffel Fine Art Auction House, November 18, 1999, lot 81
Private Collection, California
Sold sale of Fine Canadian Art, Heffel Fine Art Auction House, May 17, 2012, lot 143
Private Collection, Vancouver

Literature:
E.R. Hunter, J.E.H. MacDonald: A Biography and Catalogue of his Work, 1940, catalogued and described page 49
Nancy E. Robertson, J.E.H. MacDonald, RCA, 1873 - 1932, The Art Gallery of Toronto and the National Gallery of Canada, 1965, similar subject reproduced page 15
Paul Duval, The Tangled Garden: The Art of J.E.H. MacDonald, 1978, a similar 1912 subject entitled Early Evening, Winter reproduced page 38

J.E.H. MacDonald's early works, such as this fine winter scene, are delicate examples of his work in an Impressionist vein. He had been employed as a commercial designer at Grip Ltd. in Toronto from 1907 to 1911, where he produced skilled works. Encouraged by his fellow artists to pursue painting, he began to exhibit professionally in 1908. While Snowfields, Evening is influenced by both Impressionism and Art Nouveau, it also speaks clearly of the direction MacDonald's work would take in a few short years. The emphasis on the landscape being part of a vast space, the amount of the composition that is given over to the sky, and the wildness of the scene – all point towards the Group of Seven style that was to come. MacDonald's work from this time is often set at night – perhaps because his sketching time was limited by the demands at Grip, but also because these nighttime scenes, particularly those set in winter, had a great appeal to him. Low light, fine, elongated shadows and a peaceful quiet pervade this intimate work.


Estimate:
$20,000 ~ $30,000 CAD
Sold for:
$26,325 CAD (including Buyer's Premium)

All prices are in Canadian Dollars.
Although great care has been taken to ensure the accuracy of the information posted, errors and omissions may occur. All bids are subject to our Terms and Conditions of Business.