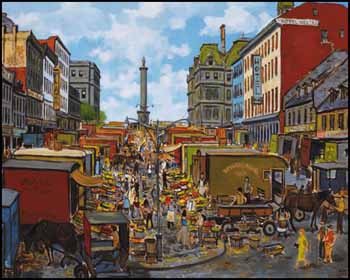 Lot # 214

John Geoffrey Caruthers Little
ARCA 1928 - Canadian

Market at Place Jacques-Cartier
oil on board
signed and dated 1956 and on verso inscribed "#15666"
24 x 30 pouces 61 x 76.2cm

Provenance:
Private Estate, Vancouver

John Little studied art at the Montreal Museum of Fine Arts and in New York at the Art Students League, but also had a keen interest in architecture, having worked as a draughtsman in his father's architectural firm Luke & Little starting in 1951. When he returned exclusively to painting in 1953, his subjects were the street scenes of old Montreal and Quebec City. He captured the unique ambiance and architectural details of their distinctive buildings. Many of these neighbourhoods and ethnic communities were adversely affected by urban planners of the 1960s, and Little's work is a record of the uniqueness of what was lost. Market at Place Jacques-Cartier is a superb example of Little's urban scenes, a detailed and vivacious depiction of an outdoor market at this historic square in the heart of old Montreal, at the entrance to the old port. Little's palette was often a tonal one based on grey, brown and orange, but this important painting, typical of his early work, explodes with colour, adding to the animation of the scene. Traditional mixes with contemporary as Little contrasts country farmers in their aprons with smartly dressed city dwellers, and gas-powered vans with horse-drawn carts, in a work that exudes the vitality of Montreal's urban life.

Estimation: 20,000 $ ~ 30,000 $ CAN
Enchère finale: 20,000 $ CAN

Exposé à: Heffel Fine Art Auction House Vancouver

Cette vente en ligne est terminée.
Historique des enchères

# De palette

Date

Prix $

Il n'y a pas encore d'enchère pour ce lot
Cliquer sur l'image pour plus de détails.
Tous les prix sont en dollars canadiens.
Nous avons fait en sorte d'assurer l'exactitude de l'information affichée, mais des erreurs ou oublis peuvent se produire. Toute acquisition est soumise à nos modalités et conditions.
Liens reliés:
Palmarès des enchères
Mes enchères
S'inscrire pour miser
Expédition
Modalités et conditions
Termes du catalogue et abbréviations
Conseils pour la vente aux enchères en ligne
Foire aux questions