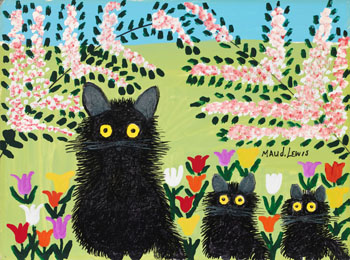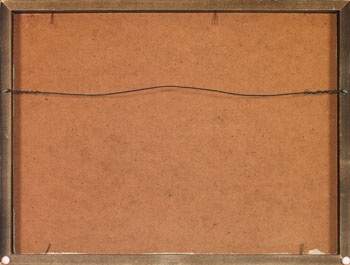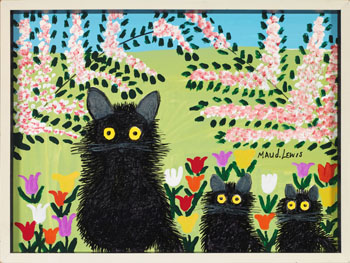 Lot # 101
July 2017 - 2nd Session Online auction

Maud Lewis
1903 - 1970 Canadian

Black Cats
oil on board
signed
12 x 16 in 30.5 x 40.6cm

Provenance:
Private Collection, Vancouver Island

Born in South Ohio, Yarmouth County, Nova Scotia, Maud Lewis is renowned for her bright paintings of Maritime rural life. Having contracted polio, and suffering from juvenile rheumatoid arthritis, Lewis left school at the age of 14 and lived a confined but happy life at home. She began her artistic career by painting Christmas cards with her mother that they sold on the streets of Yarmouth.
Following the death of her parents, Lewis moved to Marshalltown, Digby County, Nova Scotia to live with her aunt. It was there that she met her future husband, Everett Lewis, a fish peddler. They married in 1938 and moved into his small cabin. She continued to paint cards and began to paint scenes on wood panels. Everett often took Maud with him while selling fish and would promote her artwork to his customers. With his encouragement, Lewis began to produce more paintings. Her work grew in popularity, and buyers began to come directly to her home to acquire her paintings.
Despite her lack of formal training, Lewis's depictions of rural life, animals and landscapes, drawn from her everyday experiences, have an irresistible charm and vitality. She often used oil paints straight from the tube and rarely mixed her pigments, and her colourful work expressed the essence of Maritime life. Her work gained popularity to the point that she was featured in numerous newspapers, such as the Moncton Times, the Atlantic Advocate and the Star Weekly, and she also starred in a CBC-TV Telescope program in 1965. In 1967, her work was shown at the Centennial Exhibition of Primitive Art in New Brunswick at Beaverbrook House, St. John. Prominent collectors of her work include R.L. Stanfield, the former premier of Nova Scotia and Richard Nixon, the former President of the United States. Her paintings still hang in the White House and the Legislative Building of Nova Scotia.
Lewis passed away at the Digby General Hospital at the age of 67 in 1970. She has become one of Canada's most well-known and endearing folk artists. The Art Gallery of Nova Scotia has a large collection of her paintings, and installed her original house in the gallery as part of a permanent exhibition of her work. In 2016, a film was released on her life entitled Maudie which was screened at film festivals in Canada, the United States and Europe to positive critical reviews, and which has brought more awareness to the work of this Maritime treasure.

Estimate:

$8,000 ~ $10,000 CAD

Final Bid:

$27,500 CAD

Bidding History

Paddle #

Date

Amount $

25158

27/07/2017 12:01:30 PM

$27,500

26490

27/07/2017 12:00:54 PM

$25,000

25158

27/07/2017 11:59:34 AM

$22,500

26490

27/07/2017 11:58:11 AM

$20,000

25158

27/07/2017 11:57:04 AM

$19,000

26490

27/07/2017 11:49:29 AM

$18,000

6071

27/07/2017 11:33:19 AM

$17,000

16568

27/07/2017 11:18:08 AM

$16,000

18531

27/07/2017 11:03:31 AM

$15,000

6071

27/07/2017 10:49:46 AM

$14,000

18531

27/07/2017 10:34:27 AM

$13,000

26876

17/07/2017 8:05:03 AM

$12,000

6071

11/07/2017 2:51:16 PM

$11,000

30557

10/07/2017 8:47:50 AM

$10,000

15151

08/07/2017 4:41:44 PM

$9,500

30557

08/07/2017 4:40:37 PM

$9,000

15151

08/07/2017 4:36:35 PM

$8,500

30557

08/07/2017 1:11:57 PM

$8,000

29373

08/07/2017 9:38:28 AM

$7,500

30557

08/07/2017 7:12:06 AM

$7,000

15151

07/07/2017 4:05:46 PM

$6,500
All prices are in Canadian Dollars.
Although great care has been taken to ensure the accuracy of the information posted, errors and omissions may occur. All bids are subject to our Terms and Conditions of Business.