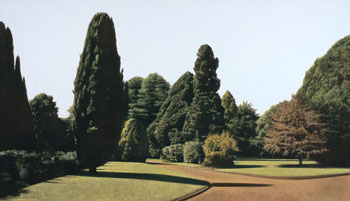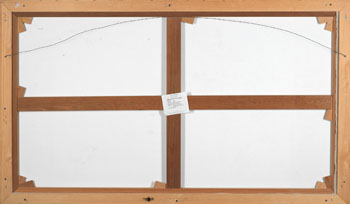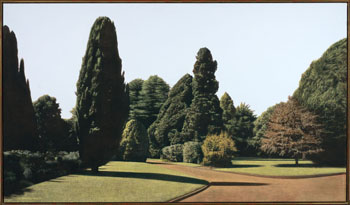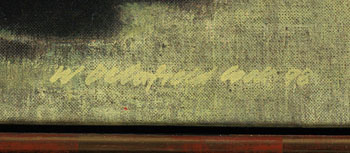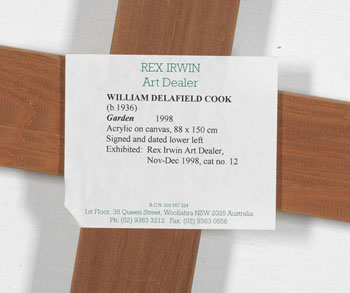 Lot # 004
April 2017 - 1st Session Online auction

William Delafield Cook
1936 - 2015 Australian

Garden
acrylic on canvas
signed and dated 1998 and on verso titled on the label
35 x 59 in 88.9 x 149.9cm

Provenance:
Rex Irwin Art Dealer, New South Wales, Australia
Private Collection, Montreal

Literature:
Marina Vaizey, William Delafield Cook: Selected Works 1958 – 1987, Australian Centre for Contemporary Art, 1987, pages 8 and 14

Exhibited:
Rex Irwin Art Dealer, New South Wales, Australia, November - December 1998, catalogue #12

Well known Australian landscape painter William Delafield Cook was renowned for his large scale realist landscapes, both wild and cultivated. While growing up in Australia, Cook was always interested in recording the real world – observing the world around him through telescopes, binoculars and the camera. Through this process he developed a fine awareness of light and colour.

In the late 1950s, Cook traveled to Europe, studying in Italy at the University of Perugia, and in 1960 at the British School of Rome. From 1961 to 1962, he studied photography and painting at the Bath Academy of Art in England. He began a life-long pattern of alternating living in both England and Australia. In 1970, he returned to London, and achieved prominence there in that decade. He had sold out shows at London's Redfern Gallery, and came to the attention of prominent collectors such as Rupert Murdock and Elton John, who acquired almost all of the works in one exhibition.

It was ingrained in Cook's practice to use his camera as his sketch book, and consequently his images have a sense of being carefully framed and meticulously detailed. London art critic Marina Vaizey wrote that his images are based on "an unremitting intensity of observation; on scrupulous editing; on an intense awareness on the past and present of art; and on that tension between the contrived and the natural." His landscapes are known for their stillness and their absence of people. In Garden, the natural feels like a stage setting – the trees and bushes are a mix of natural and shaped, and the driveway and grass are perfectly manicured. There is a sense of the insertion of human order into the world of nature and a subtle pleasure in these two worlds existing together. Vaizey wrote that Cook's most characteristic work "has a determined solidity, an intense palpability, a here-ness," and Garden is a fine example of these qualities.

| | | |
| --- | --- | --- |
| Estimate: | $60,000 ~ $80,000 CAD | |
| Starting Bid: | $55,000 CAD | |
Bidding History

Paddle #

Date

Amount $

There are currently no bids for this lot
All prices are in Canadian Dollars.
Although great care has been taken to ensure the accuracy of the information posted, errors and omissions may occur. All bids are subject to our Terms and Conditions of Business.