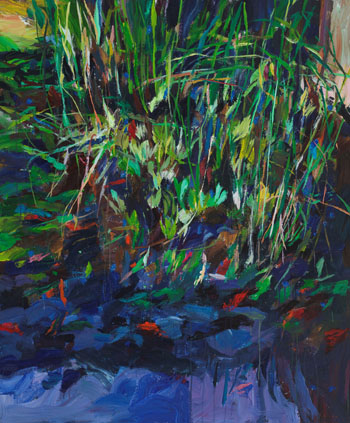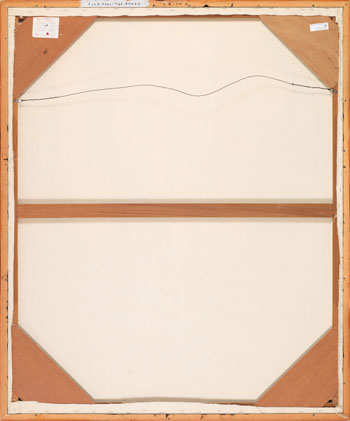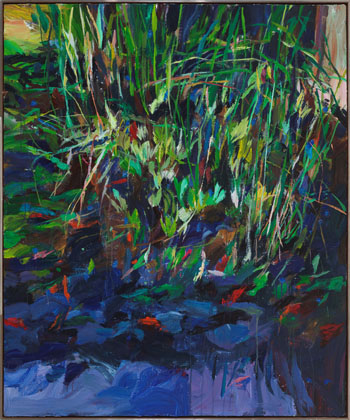 Lot # 324
November 2016 - 5th Session Online auction

Gordon Appelbe Smith
BCSFA CGP CPE OC RCA 1919 - Canadian

Fish Pool - The Byway
acrylic on canvas
signed and on verso signed, titled and dated 1991
59 x 49 in 149.8 x 124.4cm

Provenance:
Bau-Xi Gallery, Vancouver
Private Collection, USA

In the early 1990s Gordon Smith began a series of works based on pools. This painting is likely inspired by the small pond in his own backyard, with its reeds, lily pads and goldfish. Later, in 1995, Smith visited Claude Monetís famous home and garden at Giverny, and inspired by Monetís extraordinary water lily paintings, he developed this subject further in his lush and beautiful Pond series. Smithís command of expressionist brushwork, textural effects and the transitory effects of light are all at play in this fine example from this series. Smith moves back and forth between abstraction and representation, particularly in the surface of the water, which can be read both as water and as a flat, painterly field. Goldfish read as abstracted streaks of pigment, and the long, trailing stems resemble dripping, a device he often used in earlier landscapes. Such concerns reflect Smithís modernist approach, and how his awareness of the qualities of paint is just as important as the landscape that he depicts. Lyrical and sensual, Fish Pool - The Byway gives the viewer pleasure not only in its subject, but in its consummate painterly qualities.

Estimate:

$40,000 ~ $60,000 CAD

Final Bid:

$70,000 CAD

Bidding History

Paddle #

Date

Amount $

24970

26/11/2016 11:06:32 AM

$70,000

29807

24/11/2016 7:03:38 PM

$65,000

Autobid

24970

24/11/2016 7:03:38 PM

$60,000

29807

24/11/2016 8:00:16 AM

$55,000

Autobid

18272

24/11/2016 8:00:16 AM

$50,000

29807

23/11/2016 10:42:57 PM

$47,500

Autobid

2047

22/11/2016 10:36:37 AM

$45,000

18272

20/11/2016 7:07:44 PM

$42,500

2047

15/11/2016 2:10:05 PM

$40,000
All prices are in Canadian Dollars.
Although great care has been taken to ensure the accuracy of the information posted, errors and omissions may occur. All bids are subject to our Terms and Conditions of Business.