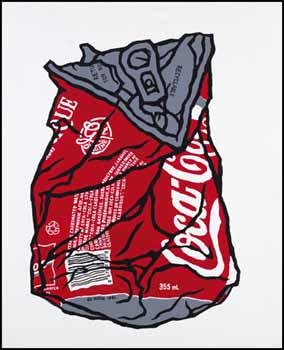 Lot # 329

Gu Xiong
1953 - Canadian

Crushed Coke Can Classic
acrylic on canvas
signed and dated 1991 and on verso titled and dated on the gallery label
20 x 16 in 50.8 x 40.6cm

Provenance:
Diane Farris Gallery, Vancouver
Private Collection, Vancouver

Please note: this work is unframed.

Estimate: $1,600 ~ $2,200 CAD
Final bid: $1,000 CAD

Preview at: Heffel Fine Art Auction House Vancouver

This Online Auction is closed for bidding.
Bidding History

Paddle #

Date

Amount $

There are currently no bids for this lot
Click on each thumbnail to view a full version of each item.
All prices are in Canadian Dollars.
Although great care has been taken to ensure the accuracy of the information posted, errors and omissions may occur. All acquisitions are subject to our Terms and Conditions of Business.
Related links:
Bidding Hotlist
My Bids
Register to Bid
Shipping
Terms and Conditions
Catalogue Terms and Abbreviations
Expert Bidding Tips
Frequently Asked Questions