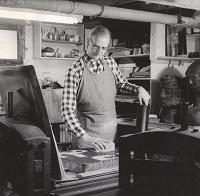 John Harold Thomas Snow

1911 - 2004
ASA CSGA RCA

John Snow was born in Vancouver and lived and worked in Calgary for almost 70 years. Known as a pioneering printmaker who started the first fine art lithographic press studio in Calgary, he was also a painter and sculptor. His extensive body of work is well-known in Calgary, where his vibrant prints grace numerous public and private collections including the Nickle Galleries at the University of Calgary, which has a complete set of his lithographs.

Snow worked as a banker for most of his life, but was deeply interested in art. He was part of a family that included artists and that exposed him to fine art often in his youth, and he began his art career as a watercolour painter. With the outbreak of World War II, he enlisted with the Canadian Air Force and trained as a navigator, and was eventually posted with the Royal Air Force in Gibraltar, where he dropped supplies via paratroopers to various locations in Europe. His work as a map reader and navigator forced him to observe the land below him in a unique manner that would later influence his sense of spatial relations in his prints.

Upon his return to Canada, Snow was eager to become an artist and took a life drawing class at the Provincial Institute of Technology and Arts - then called The Tech - now the Alberta College of Art and Design (ACAD). The class was taught by Calgary modernist painter Maxwell Bates, who had spent five years in a POW camp in Germany. Bates had explored abstraction in Calgary as early as 1928 and his experiences as a prisoner-of-war led to an interest in a style of expressionism heavily influenced by Max Beckmann, whom Bates studied under at the Brooklyn Museum Art School. Bates introduced Snow to printmaking via the woodcut, and in this medium the influence of Beckmann can be seen. Bates and Snow would work together for years, influencing each other strongly. They worked side-by-side, sometimes pulling prints from stones which Snow had discovered abandoned in the alley behind Western Printing and Lithography, a Calgary firm that was upgrading to more modern equipment. Along with the stones, Snow found parts of a press, which he gathered and put back together, eventually purchasing more parts from the same company.

Snow worked tirelessly to promote art in Calgary. He became a technical expert on the lithographic press, hand-pulling each of his prints. He also interested people into his studio to observe and learn from him. He was adamant in his championship of the fine art print, praising not only its quality, but its affordability. Snow wanted people of modest means to be able to acquire fine art. Landscape, the figure, abstract forms and the still life all appear in Snow's prints. He was known to experiment with modern materials, especially in the 1970s, using plastic doilies, nylon fabric and other types of synthetic cloth to impose pattern over form in his work. Prints of this type speak uniquely of their time, and echo the influx of cheaply made plastics into modern life.

Snow's dislike of the limelight has resulted in his low profile, but his prints speak for themselves, marking him as a significant figure in the world of Canadian fine art prints.