By John Mackie, Vancouver Sun
October 30, 2009 3:02 PM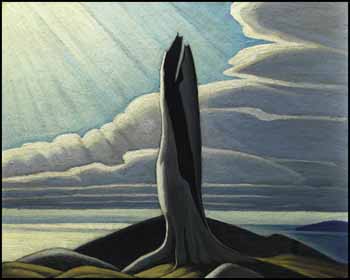 Lawren Harris' 1926 painting The Old Stump, Lake Superior
is one of the of the key lots in the Heffel Gallery Fall auction Nov. 26.
It is a study for a larger canvas, North Shore, Lake Superior which
is in the collection of the National Galley of Canada in Ottawa.
It has a pre-auction estimate of $2 million to $2.5 million,
the highest estimate the Heffels have ever given.
The auction will be held in Toronto, but the Vancouver preview is
Oct. 31 to Nov. 3.

Photograph by: Handout, Heffel Fine Art Auction House
Saturday, Oct. 31 until Tuesday, Nov. 3
Heffel gallery, 2247 Granville at 7th Ave.
VANCOUVER - You don't usually get a chance to buy one of the icons of Canadian art. But at this fall's Heffel auction, Lawren Harris's landmark painting The Old Stump, Lake Superior, is up for auction.
The beautiful image of a single stump set amidst the lake and clouds, sun beaming down from heaven, is one of Harris's most recognizable works - it's the art on Harris's Wikipedia entry.
A large version of the painting, called North Shore, Lake Superior, is one of the cornerstones of the National Gallery of Canada's collection. The Old Stump, Lake Superior is a smaller "sketch" painting he executed before the National Gallery masterpiece.
Harris painted both in 1926, and held onto the sketch, which is 12-by-15 inches. In 1946, his friend Charles Band asked if he could buy it. Harris initially demurred, but eventually relented.
"I am pricing all my better sketches at $100 - that is those sold by dealers," Harris wrote in a letter to Band in 1946.
"If I sell them myself to friends they then sell for $75 unframed."
The sketch has appreciated in value. David and Robert Heffel have given it a pre-auction estimate of $2 million to $2.5 million - the highest pre-auction estimate ever for a Canadian painting in a Canadian auction.
The painting goes on public display this Saturday at the Vancouver preview for the Heffel's Nov. 26 auction, which is being held in Toronto.
It is one of 15 works consigned by the estate of Helen Band, who inherited many of her father's best paintings. Charles Band had a legendary Canadian art collection; he was a longtime champion and friend of the Group of Seven.
There are four top-notch Lawren Harris paintings in the Band estate lots being offered by the Heffels, including the sketch Iceberg, Baffin's Bay North, which is an early version of a famous painting in the McMichael Canadian Art Collection, Icebergs, Davis Strait. Iceberg is estimated at $1.2 million to $1.6 million, the same amount as another dazzling Harris painting, Houses, St. Patrick Street.
A.Y. Jackson joined Harris on many of his painting trips, and the Band collection includes Jackson's North Shore, Lake Superior, painted the same year Harris did his painting of the same name. The subject matter is different; the Jackson painting is of what the catalogue describes as "rolling rhythmic hills," with billowing rain clouds swirling above the windblown water of the lake.
It's estimated at $450,000 to $550,000, slightly above the $400,000 to $500,000 estimate for Frederick Varley's beautiful Nude on a Couch.
"Many art historians feel it is Varley's best painting," says Robert Heffel.
The Band works also include a small but playful painting by B.C. Binning (Atomic Fountain, estimated at $15,000 to $20,000), a trio of maritime paintings by Arthur Lismer estimated at $20,000 to $30,000, and a small maquette statue by Henry Moore (Maquette for Figure on Steps) estimated at $175,000 to $225,000.
"Once in a lifetime you get a collection like the Band," notes David Heffel. "Any museum in Canada would have died to have receive them as gifts."
That the Heffel brothers landed the Band consignment shows their stature at the top of the Canadian art auction market. Last spring their main competition, Sotheby's-Ritchie's, had a top price of $175,000 at its sale. The Heffel spring auction had nine paintings that sold for more than that, including three paintings that sold for over a million dollars.
Ritchie's didn't pay some of its consignors at its sale, and Sotheby's has severed relations with the Canadian firm. Ritchie's declared bankruptcy this week, and Sotheby's is now mounting its own sale Dec. 3.
Sotheby's president David Silcox has another Harris painting lined up for its sale (Lake Superior Sketch III, estimated at $300,000 to $500,000), but admits the Heffels scored a coup by landing the Band collection.
"We didn't get the big Band estate, which is a disappointment, because the Band family had dealt with us for decades," said Silcox from Toronto.
"We felt a little...we were sad not to get it. There are some wonderful things in it, of course, which will make a spectacular sale, I suspect."
Anthony Westbridge publishes the Canadian Art Sales Index, which lists the prices of all Canadian paintings sold at auction last year. He expects Sotheby's will do fine in the long run - "[it is] the biggest auction house in the world" - but says the Heffels have momentum on their side.
"They've come onto the scene with amazing force and energy, and they've taken it over right now," said Westbridge.
"They do have the momentum, and they get the results. Which I guess is all that really matters for most people."
There are 210 lots in the Heffel sale, which is divided up into two sessions, Post-War and Contemporary in the afternoon, and Fine Canadian Art at night.
An anonymous philanthropist has put up eight paintings up for auction, with the proceeds to be distributed among several charities.
The philanthropist's collection includes a small but striking Tom Thomson sketch, Early Spring, Canoe Lake. Thomson painted it on location only a couple of months before he died in 1917.
"Many people feel that Thomson's best paintings were done in 1917, the last year of his life, when he really came into his full promise as an artist," said Robert Heffel. "So the most sought-after Thomsons are from 1917."
Early Spring, Canoe Lake has an estimate of $600,000 to $800,000. It has impeccable provenance: Group of Seven member J.E.H. MacDonald authenticates it in the bottom right hand corner, just below Thomson's signature. Thomson drew a bird on the back as well. The painting was also used as the cover for Joan Murray's 1994 book, Tom Thomson, The Last Spring.
British Columbia artists are well represented in the sale. There are five works by Emily Carr, including Arbutus Trees, a vibrant oil on paper. It has an inscription on the back reading "reserve for Mrs. Arnold Matthews, $38."
"I got an email today on that piece," said David Heffel with a smile.
"A gentleman from Toronto is friends with the [Matthews] family...he's friends of her kids. Unfortunately, she didn't buy the painting."
Arbutus Trees is estimated at $125,000 to $175,000. After Mrs. Matthews declined to buy it, it wound up in Pennsylvania, of all places. Another B.C. painting that is being brought back to Canada is Industrial Island #2 by Jack Shadbolt.
It's virtually unrecognizable, but the dark work of social realism is of Granville Island. Shadbolt gave it to his neighbour, and their descendants took it to Vancouver, Wash., across from Portland. It has an estimate of $20,000 to $25,000.
There are several E.J. Hughes paintings in the sale. David Heffel is fond of Roberts Bay, BC, a playful vision of small fishing boats beached amidst a picaresque landscape. It has a date of 1953, but probably dates to the 1940s - when Hughes linked up with the great Montreal art dealer Max Stern and his Dominion Gallery in 1953, he had several years worth of paintings, which he then dated 1953.
Roberts Bay has an estimate of $100,000 to $150,000. A real 1950s Hughes, The Store at Allison Harbour, BC, was conceived when Stern got Hughes a commission to travel up the coast aboard the small tanker Imperial Nanaimo and do illustrations for the Standard Oil magazine The Lamp. It has an estimate of $200,000 to $300,000.
The preview runs from today through Tuesday, from 11 a.m. to 6 p.m.
"It's just going to be a real pleasure to have people come in here and see the paintings," said Robert Heffel. "They're going to feel like they've entered a museum."
jmackie@vancouversun.com
© Copyright (c) The Vancouver Sun