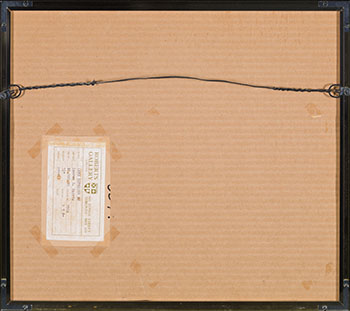 Inventory # A18S-E16313-001

Lawren Stewart Harris
ALC BCSFA CGP FCA G7 OSA RPS TPG 1885 - 1970 Canadian

Lake Superior #2
graphite on paper circa 1921 ~ 1928
on verso titled on the Roberts Gallery label and inscribed "684"
7 5/8 x 9 7/8 in 19.4 x 25.1cm

Provenance:
Roberts Gallery, Toronto
Sold sale of Canadian Art, Waddington's, May 7, 1981, lot 865
Private Collection, Ontario

Literature:
Jeremy Adamson, Lawren S. Harris: Urban Scenes and Wilderness Landscapes, 1906 – 1930, Art Gallery of Ontario, 1978, page 158, the painting Lake Superior Sketch XXXIX, collection of the Art Gallery of Ontario, reproduced page 161
Ian A.C. Dejardin, Painting Canada: Tom Thomson and the Group of Seven, 2011, the painting Lake Superior Sketch XXXIX, collection of the Art Gallery of Ontario, reproduced page 186, catalogue #109

This drawing is the preliminary sketch for Lawren Harris's painting Lake Superior Sketch XXXIX, in the collection of the Art Gallery of Ontario (catalogue #10.17.2011). In his book on Harris, Jeremy Adamson notes that the oil sketch was, in turn, the basis for a larger composition. This drawing is a fascinating record of Harris's study of the primary elements of this view of Lake Superior, one of his most important painting places. The north shore of the lake had a primal, brooding intensity that appealed to Harris's soul, and he traveled there often between 1921 and 1928. In his Lake Superior works, he pared the landscape down to its most essential elements, and he was drawn to the contrast between the bare trees in the foreground and the inspiring vistas down the lake, seen from the rock ledges above the shore. In the oil sketch derived from this drawing, Harris made some alterations – he stripped some smaller branches shown in the drawing to streamline his image, and he added one snake-like trunk for balance. This fine drawing, executed on the spot, was Harris's primary document for the powerful paintings that followed.


| | | |
| --- | --- | --- |
| Price: | $0 CAD | |
All prices are in Canadian Dollars.
Although great care has been taken to ensure the accuracy of the information posted, errors and omissions may occur. All bids are subject to our Terms and Conditions of Business.