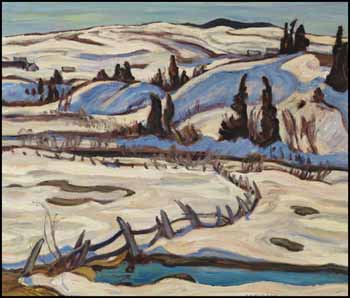 Lot # 159

Alexander Young (A.Y.) Jackson
ALC CGP G7 OSA RCA RSA 1882 - 1974 Canadian

North Shore, Quebec
oil on canvas circa 1939
signed and on verso inscribed "Dr. Stanley Campbell"
22 1/4 x 26 1/4 in 56.5 x 66.7cm

Provenance:
A gift from the Artist to Dr. Stanley Minto Campbell, Toronto
By descent within the family of the above, Ontario

Literature:
A.Y. Jackson, A Painter's Country: The Autobiography of A.Y. Jackson, 1958, page 132

In the winter in Quebec, when the dirt roads leading to the remote villages and quaint towns that A.Y. Jackson so loved were completely frozen and covered in snow, the artist had to travel them by horse and sleigh. But in the spring, when everything began to melt, these roads often became completely impassable. Tenacious and undeterred by weather, Jackson favoured this sketching time, and, in his persona as Père Raquette, he used an ancient pair of wood and sinew racquet-style snowshoes to access the shores of lakes and rivers, and to reach the hidden valleys and out-of-the-way places where the melting snows were untracked. There, despite the mud and cold, he would set up to sketch. On the sunlit late winter or early spring day depicted in North Shore, Quebec, the melting snow was laid out before the artist in ribbons of blue and grey, dotted with pools of pink and brown, slowly turning back into liquid under the sun's warmth. A teetering fence has worked its way out of the snow, tracing lines through the varied whites and casting rippled purple shadows. The fence winds out of view at the foot of a rolling, blue-shadowed hillside, where our eye is taken up into deeper shadowed snow, over a more distant hill and on into a green-grey sky. Jackson's landscapes are filled with specific details that indicate just how fully he understood the land. Here, the fence posts are old - they are dry and skeletal - and the water in the near stream is a beautiful shade of blue, different from the shadows in the snow, and edged with a wet, muddy shade of brown. The rolling hillside is accented with the forms of dancing trees. Lyrical and standing in groups, they seem figure-like as they wave at spring from their protected hollows. In the distance, a few buildings dot the landscape, but they are still asleep, caught in the snows of winter. It was his time spent walking (or on snowshoes or skis) that gave Jackson such innate knowledge of the nuances of the Canadian landscape, and it is his ability to capture these things in his paintings that makes his work so very appealing. In North Shore, Quebec, we can feel the warmth of the sun and hear the sounds of the melt - spring is returning in full force, bringing life and renewal along with it.
This painting comes to auction with Heffel through the Campbell family, who were among Jackson's early and vitally important collectors. They came to know of Jackson through Dr. James MacCallum, who had offered Jackson a year's expenses and a free studio in the artists' space he was building with Lawren Harris in Toronto in 1913. The Studio Building, as it came to be known, was home base for many aspiring painters. Not only did MacCallum financially assist these artists, he also introduced them to collectors who would support them further by purchasing their work. One such gentleman - a colleague of MacCallum's - was Dr. Stanley Campbell, the first head of Anesthesia at the Toronto General Hospital and a graduating classmate of Dr. Frederick Banting at the University of Toronto. Campbell was part of a network of doctors who became some of the first mainstream collectors of the Group of Seven. They saw the distinct Canadian landscape in the art they were collecting and shared in the Group's pursuit of a national artistic identity. Dr. Campbell's interest in art was sparked by this network, as well as directly by Jackson, as the artist was a patient at Campbell's general practice in north Toronto. In the early 1930s, Jackson gave Campbell two small oil panels in exchange for medical services. Campbell and his wife Jean were so taken with these charming works that they visited Jackson in his studio and promptly purchased North Shore, Quebec. While several additional canvases were purchased during the next decade, North Shore, Quebec was always Mrs. Campbell's favourite. A family member recalls the story of her entering Jackson's studio and instantly gravitating to this canvas on the wall. One can imagine such a scene in Jackson's studio, where, as Jackson describes, there was "a big easel which was supposed to have belonged to Tom Thomson. A pair of West Coast snowshoes, an Indian mask and prints of paintings by Paul Cézanne and Vincent van Gogh served as decorations."

Sold For: $140,400.00 CAD (including Buyer's Premium)
Estimate: $100,000 ~ $150,000 CAD