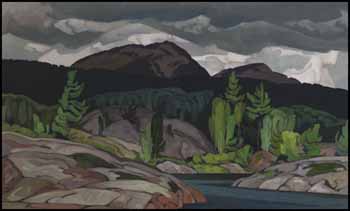 Lot # 112

Alfred Joseph (A.J.) Casson
CGP CSPWC G7 POSA PRCA 1898 - 1992 Canadian

In the Cloche Hills
oil on canvas circa 1948 ~ 1950
signed and on verso signed and titled on the artist's label
27 x 45 in 68.6 x 114.3cm

Provenance:
Roberts Gallery, Toronto
Private Estate, Vancouver

Exhibited:
Art Gallery of Hamilton, Fifteenth Annual Exhibition, 1964

Franklin Carmichael owned a small cottage in the La Cloche region of Georgian Bay, and it was one of his favourite places to paint until his death in 1945. Of the Group members, Carmichael was A.J. Casson's closest friend and advocate. Following in his mentor's footsteps, Casson began visiting the La Cloche area in 1948, returning again in 1949 and 1950. Casson considered the works created from these trips to be some of his best. He became so enamoured with the area that a lake in the region was named in his honour. The expansive views from high ground, the brilliant blue lakes and dramatic shorelines provided infinite inspiration for the artist. Works that he painted here range in their spirit from moody to serene, in their tones from dark and ominous to light and airy, and are often monumental in size and treatment. It is clear that this region gave him a great variety of interesting subjects. The area's distinct rock formations are brilliantly white and reflect sunlight, extending the range of the artist's palette and creating shadows and nuances of colour that are quite unique.
At La Cloche, as he had with other areas, Casson followed his habit of working repeatedly at the same location, so that he came to know it intimately and in a variety of seasons and weather conditions. While he was an avid traveler, he preferred to sketch in areas with which he had become familiar. This habit only benefited his work; like a portraitist who personally knew his sitter, Casson was able to paint La Cloche's unique beauty with a personal and deep understanding.
Here, clouds move in (or out) from the horizon, broiling over the hill formations that are presented as a lovely jumble of smoothed, similarly hued rocks. The horizontal patterning of the rocks and clouds is juxtaposed by the upright trees and the patterns on the hills in the middle ground. Additionally, the colour range of this work is primarily cool, with the blues, purples and greens all set under the grey clouds, but gently countered by the sections of warm orange that indicate lichen or staining on the rocks at La Cloche. The scene has a fine balance overall.
Casson worked in a number of styles over the years, sometimes painting the elements of the scene in a cubist manner, but in this large canvas he took an entirely natural approach, reinforcing the tranquility of this beautiful panoramic scene.

Sold For: $105,300.00 CAD (including Buyer's Premium)
Estimate: $100,000 ~ $150,000 CAD