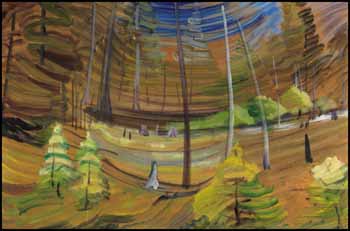 Lot # 127

Emily Carr
BCSFA RCA 1871 - 1945 Canadian

Spring in the Woods
oil on paper on board circa 1935
signed with the estate stamp and on verso titled on the Dominion Gallery label and stamped Dominion Gallery
23 3/4 x 36 in 60.3 x 91.4cm

Provenance:
Dominion Gallery, Montreal
Roberts Gallery, Toronto
Private Collection, Vancouver
Sold sale of Fine Canadian Art, Heffel Fine Art Auction House, May 27, 1999, lot 96
Private Collection, USA

Literature:
Doris Shadbolt, The Art of Emily Carr, 1987, page 140

Emily Carr's discovery of the medium of oil thinned with gasoline or turpentine freed her to do large works on paper, and to express the energy that she sensed flowing through the forest, sky and seashore around Victoria and areas such as Metchosin, Esquimalt and Goldstream. "In the 1930s," Doris Shadbolt wrote, "her paintings became free of all reference except to nature itself, which had now become her central and all-sufficient theme: nature as life-force. Looked at this way, Carr's paintings fall into natural groups centering around a number of primary elements: space, inviting or expansive, or, in its absence, crowding; light, glowing or radiant, or its mysterious counterpart, dark; movement and its compulsive sweep or its nervous tremble; mass whose inert strength resists animation. Sometimes the central experience is one of ecstasy - the experience of identity with all creation." In Spring in the Woods, Carr has let space in to flow between stumps, young trees and tall spindly trunks, while in the background, form dematerializes into lines of energy. Expansive, light-filled and joyous, Spring in the Woods is full of Carr's sense of liberation.

Sold For: $111,150.00 CAD (including Buyer's Premium)
Estimate: $100,000 ~ $150,000 CAD