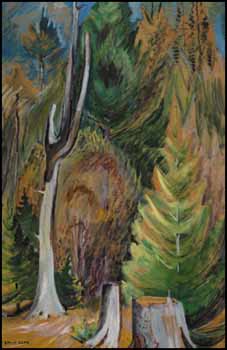 Lot # 161

Emily Carr
BCSFA RCA 1871 - 1945 Canadian

Westcoast Forest Edge
oil on paper on board circa 1934
signed
36 x 24 in 91.4 x 61cm

Provenance:
Anne Cochran Wilkinson, Toronto
By descent to Betty Clark, Ottawa
By descent to a Private Collection, Portland
Sold sale of Canadian Art and International Works, Heffel Fine Art Auction House, November 9, 1995, lot 46
Private Collection, USA

Literature:
Doris Shadbolt, The Art of Emily Carr, 1979, a similar 1936 oil on paper entitled Young and Old Forest, BC reproduced page 155, catalogue #133
Emily Carr, Hundreds and Thousands: The Journals of Emily Carr, 2006, pages 264, 282, 283 and 293

In the 1930s, Emily Carr did not have to venture far from her home in Victoria to find forested areas to paint - locations such as Metchosin, Coldstream, Sooke and Esquimalt Lagoon - where she found everything from old growth stands to secondary growth on logged-over land. She sometimes had her caravan The Elephant installed in the forest, and taking her menagerie of pets - dogs, a rat and the monkey Woo - would camp and paint for periods of time. This allowed her to immerse herself in the forest, something which gave her great joy. She wrote in her journal Hundreds and Thousands of how she would plant herself in the forest on a camp stool, art materials at hand, sometimes singing hymns. She would watch and wait, until "Slowly things begin to move, to slip into their places. Groups and masses and lines tie themselves together. Colours you had not noticed come out, timidly or boldly...The air is alive. The silence is full of sound. The green is full of colour. Light and dark chase each other. Here is a picture, a complete thought, and there another..."
When artists first came to British Columbia, they often spoke of how overwhelming the dense forests were, how difficult to paint. But Carr instinctively knew how to make the right approach - she let the vision of the forest come to her by opening up to it. And although now communing with the forest seems quite natural, in Carr's time she knew that to the average person, as she wrote, "the forest jungle is a closed book," full of strange things, loneliness, darkness and "the awful solemnity of the age-old trees, with the wisdom of all their years of growth looking down upon you, making you feel perfectly infinitesimal." But she was unafraid, and rejoiced in breathing in its life and feeling part of a greater whole.
Being in nature was a profoundly spiritual experience for Carr - she had a strong connection with the energy she perceived as running through everything there, from earth to trees to sky. Carr had met and been in correspondence with the Group of Seven's Lawren Harris, and they had discussions regarding Theosophy, an esoteric philosophy to which Harris was fully committed. Harris also perceived the divine in nature, and in this they were attuned. However, in the end Carr found Theosophy not to be her path. She had her own conception of the presence of God in nature. Also, rather than the rarified atmosphere of the mountain top or the Arctic glacier, the forest was her profound point of connection.
Carr's perception was an integral part of her images at this time, and in her oil on paper works, her medium of oil thinned with gasoline or turpentine allowed her to work in sweeping gestures, expressing the rhythm of energy passing through every part of the landscape. Westcoast Forest Edge is a fine example of this, with its expressionist strokes of paint that flow in an upward motion from the forest floor through the uptilted evergreen branches and shimmering brush to the sky. The wall of forest vibrates with the press of life pushing up towards the light, while in the foreground the stumps and bare tree express the life cycle of the forest as it continuously passes from new growth to maturity, then decay. In Hundreds and Thousands, Carr described how she would always ask herself what it was that she truly wanted to convey in her work. Although composition, colour, light and space were her mediums of expression, what was really important to Carr was something imperceptible, "a breath that draws your breath into its breathing, a heartbeat that pounds on yours, a recognition of the oneness of all things." In works such as Westcoast Forest Edge, Carr makes us feel that we perceive the true nature of the forest and that we can experience what she felt there.

Sold For: $187,200.00 CAD (including Buyer's Premium)
Estimate: $125,000 ~ $175,000 CAD