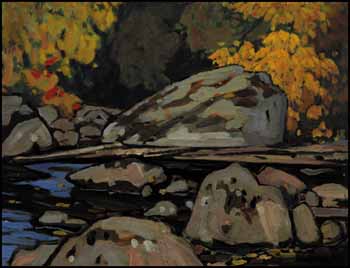 Lot # 133

Lawren Stewart Harris
ALC BCSFA CGP FCA G7 OSA RPS TPG 1885 - 1970 Canadian

Brook, Algoma - Algoma Sketch CXXVII
oil on board circa 1918 ~ 1920
signed and on verso signed twice and titled variously
10 1/2 x 13 5/8 in 26.7 x 34.6cm

Provenance:
Bess Harris Collection
The Fine Art Galleries, T. Eaton Co. Ltd., Toronto, stock #9067
Private Collection, Ontario

Literature:
Doris Mills, L.S. Harris Inventory, 1936, listed as Group 2 (2/127), Algoma Sketches, location noted as the Studio Building

On verso inscribed "Bess Harris Collection, property of Bess Harris" (crossed out), in graphite with the artist's symbol, "Not For Sale" and with the Doris Mills Inventory #2/127 (crossed out)
This standout sketch of Algoma is notable in that it looks both back and forward in Lawren Harris's work. The fine treatment of the yellow tree leaves recalls his 1913 masterwork Hurdy Gurdy (in the collection of the Art Gallery of Hamilton). As well, the water and rocks in the foreground foreshadow the soulful, contemplative works that would be inspired by Algoma as Harris explored it more fully. The verso notations in Harris's hand tell us that he noticed the sketch's superiority. Works marked "not for sale" might become the subject of a canvas, or be reserved for further exploration of an idea that he saw emerging in them. The revisions of the title also reveal that it was reconsidered by Harris. There is a certain feeling of mystery in the sketch, as it depicts the dark corner of a stream - or rather 'brook" as in Harris's revision. It has an anticipatory feeling that something might be revealed in this innocuous moment on a riverbank. As Harris repeated his trips to Algoma, his work underwent a dramatic change, and this superb sketch seems to encapsulate this unfolding.

Sold For: $128,700.00 CAD (including Buyer's Premium)
Estimate: $125,000 ~ $150,000 CAD