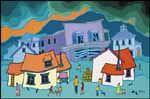 Printemps 2011 - 1ère session Vente en salle
Lot # 076

Ted Harrison
OC SCA 1926 - Canadian

Dawson City Gunshop
acrylic on canvas
signed and on verso signed, titled and dated 1983
24 x 36 in 61 x 91.4cm

Provenance:
Yukon Gallery, Whitehorse
Private Collection, Ontario

Literature:
Katherine Gibson, Ted Harrison: Painting Paradise, 2009, pages 126 and 211

Ted Harrison moved to the Yukon from England in 1968. He spent 26 years there, painting at his home studio in Whitehorse and at his cabin at Crag Lake near Carcross, inspired by a great passion for this northern wilderness and its people. Searching for his own style to depict this powerful land, Harrison revealed, "By a process of retrogression and simplification I threw out all the academic bric-a-brac which had stratified my thoughts. From there, my personal view of the Yukon began to emerge, leading to greater freedom of line and colour." The use of a brilliant colour palette not tied to realism, shape defined by strong black outlines and lines of energy pulsing through the land formed the unique style for which he is so well known. The gunshop is a reminder of both the Wild West atmosphere of the historic Yukon gold rush - of which Dawson City was a bustling centre - and the dangers of life lived close to wildlife. Fresh and spontaneous, this bright and rhythmic painting exudes the vitality of the North.

Estimation: 12,000 $ ~ 15,000 $ CAN

Vendu pour: 21,060.00 $ CAN (prime d'achat incluse)