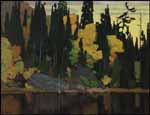 Printemps 2011 - 2e séance Vente en salle
Lot # 154

Lawren Stewart Harris
ALC BCSFA CGP FCA G7 OSA RPS TPG 1885 - 1970 Canadian

Montreal Lake, Algoma
oil on panel
signed and on verso signed, titled, dated 1923 and inscribed "25 Severn St., Toronto / Collection of Lloyd Singer, 1957"
10 1/4 x 14 in 26 x 35.6cm

Provenance:
Lloyd Singer, 1957
The Art Emporium, Vancouver
Kastel Gallery Inc., Montreal
Private Collection, Montreal

Literature:
Jeremy Adamson, Lawren S. Harris, Urban Scenes and Wilderness Landscapes, 1906 - 1930, 1978, page 79

Over the course of his career, Lawren Harris often chose to paint out-of-doors at dawn and dusk, and at times he even sketched outside during the night. He sought a deeper relationship with the places he selected to paint than just a fine-weather one, and was undeterred by challenging conditions, painting in summer snow in the Rockies and under a tent flap in pouring rain. His twilight scenes are particularly interesting. Under his brush, the moments in time when nature moved from daylight to evening took on a special reverence. This glowing sketch of the edge of Montreal Lake in Algoma is such a scene. It is utterly quiet, with the luminous colours of the ripening fall forest reflected in the glassy water of the lake. Poetic in stillness, the dark green conifers and the yellow of the deciduous trees provide a strong foil for each another, which is enhanced when caught in half-light. The distant sky is radiant and glowing, and sets the forest of the near ground into bold silhouette. It is a dramatic and fleeting moment.
The Montreal Lake region is accessible from the Algoma Central Railway, which Harris and Dr. James MacCallum took to reach Manitoulin Island in 1918. Harris had just been discharged from service in the First World War, and his only sibling Howard had been killed in battle. MacCallum was concerned for Harris's mental well-being, and so he took him into the wilderness, where he hoped that the healing power of the natural world would ease Harris's pain. In Algoma, Harris liked what he saw. This was the wild mystical north; the vast, unpeopled wilderness. He sketched with enthusiasm and was buoyed by Algoma, so much so that he decided to return that fall, inviting Frank Johnston and J.E.H. MacDonald to join himself and Dr. MacCallum for a further three-week expedition. Harris contacted the railway and arranged for a specially outfitted boxcar to be used as a base where the four of them could sleep and cook, and to carry themselves and their supplies up and down the line. They would be picked up and dropped off at three different locations. In mid-September of 1918, the four travelers were taken from Sault Ste. Marie north to Agawa Canyon where the artists sketched the dramatic rolling scenery for a number of days. From there, they were collected and moved to the siding at Hubert. "We felt we could understand something of the feeling of the early Canadian explorers," MacDonald would later write, "the whole scene seemed so primeval and unexplored." Here, Montreal Lake, River and Falls were all within reach, and only their own stamina could limit them. They worked steadily, with the fall colours at their peak. From the Hubert siding they moved to Batchewana, thus concluding the first of the famous sketching expeditions known as the boxcar trips.
Harris found the Algoma region to be a very rich subject. Subsequent trips there up until 1921 provided him with a keen understanding of the topography of this part of Ontario. He visited Montreal Lake again with Arthur Lismer and A.Y. Jackson during the 1921 Algoma trip and returned to Agawa Canyon as well. He would take these sketches further in his studio, working them into panels and larger canvases, refining and perfecting what he saw, playing with form and colour. The theme of a backlit group of trees against a body of water at dusk, rendered in a velvety, glowing, dark-on-light palette was one he explored a number of times, as in the 1920 canvas Beaver Swamp, Algoma, in the collection of the Art Gallery of Ontario. The common thread in works such as this is one of tranquil, shimmering beauty, a magnificent display of light and colour, pattern and rhythm.

Estimation: 70,000 $ ~ 90,000 $ CAN

Vendu pour: 134,550.00 $ CAN (prime d'achat incluse)